Fleet Feet Sacramento to Launch ISPO Award-Winning UltrAspire Waist Light at Western States
June 24, 2019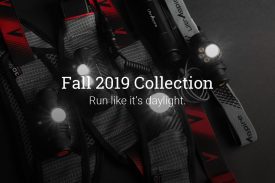 Fleet Feet Sacramento will have the exclusive launch on the Lumen 800 Ultra
St. George, Utah. "We want athletes to focus on what's important and leave the rest to us" Founder and CEO, Bryce Thatcher, says regarding gear setup. UltrAspire is preparing to launch an all new 3D Lighting™ waist light collection for fall 19. The ISPO award-winning Lumen 800 Ultra is among the group and is the ultimate trail running light providing you with a lighting experience so natural and easy on the eyes that feels like daylight.
The ultimate trail running light deserves to be tested at the ultimate trail race. Fleet Feet Sacramento will be attending Western States and will have a booth where the Lumen 800 Ultra will be exclusively available for purchase with a limited quantity on hand.
Amanda Basham, Jeff Browning, Kyle Pietari, and Ian Sharman are a few of many who will be using an UltrAspire waist light from the new collection to help navigate the course during the darker hours. UltrAspire technologies like Widebeam™, Steadybeam™, and Perfect Angle™ help to cast light across the course creating an even and clear look at your upcoming terrain in a way that allows you to navigate more safely and quickly than any other light on the market.
About UltrAspire:
UltrAspire is a high-performance, innovative outdoor gear company. From competitive endurance sports to the casual adventurer, UltrAspire keeps to a very important code which is to create an inspired outdoor experience. Gear up with UltrAspire and experience the difference at www.ultraspire.com