Five Lessons Race Directors Can Learn from Warren Buffett
July 11, 2018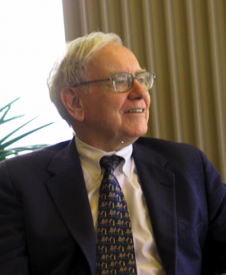 He's known as the Oracle of Omaha, and oracles, by definition, give wise advice.
Warren Buffett is chairman and CEO of Nebraska-based Berkshire Hathaway, Inc., a holding company with a stake in some of the most successful and recognizable brands. Think Coca-Cola, GEICO and Apple. He has become a household name thanks in large part to the uncommon combination of being the third richest man in the world–his net worth is valued at $82.9 billion–and, possibly, the most down-to-earth.
As the Oracle himself says, "The CEO job self-selects for 'can-do' types." That goes double for race directors. Though his legendary no-nonsense advice is often doled out to investors and brokers, we can all take a page from Mr. Buffet's book. Read on for a selection of his nuggets of wisdom that can help you create exceptional endurance events.
"Betting on people can sometimes be more certain than betting on physical assets."
In his 2018 letter to Berkshire Hathaway shareholders, Buffett emphasized this point in a passage praising the knowledgeable head of a manufacturing company which had made a strategic acquisition. Indeed, surrounding yourself with a great team is essential, as is documenting each position's key tasks and deliverables in order to "hedge your bets." This advice rings true whether your staff numbers in the dozens or in the hundreds. Key endurance event team members may include Finance, Marketing, Operations and Volunteer Management.
Know the value of a good deal (even if you're a billionaire).
He may be the third-richest man in the world, but the Oracle still uses coupons. He even cashed one in to treat Bill Gates to lunch at McDonald's. The lesson? While your event may have grown past the point of pinching every penny, you must always keep your eye on the bottom line. Areas which provide ongoing opportunities to strategize and maximize your return on investment include volunteers (an essential asset that provides great value for little cost) and your event pricing strategy (an opportunity to increase revenue without, necessarily, increasing registration price).
Learn More: Event Pricing Strategies That Make a Big Impact on Revenue
In life, there will be so many things you want to run away from, but you should always confront them head-on.
This advice was given to then 24-year-old budding entrepreneur, Kathy Xiaosi Gong, at a White House Mentorship and Leadership Program dinner. In the endurance industry, major concerns often revolve around events declining in popularity. Confront this head-on by investing in your marketing and digital advertising strategies. Here, sourcing a partner with the expertise to analyze digital advertising data is the first step in executing a successful plan to keep your event front-of-mind with your target audience.
Learn More: How the A1A Marathon Achieved an 800% Return on Ad Spend
Another issue which can weigh heavily on a race director's mind is that of crisis communication. Weather and safety issues are among the situations that require quick and efficient communication with authorities, team members, volunteers and participants. The best approach is to map out a detailed plan well in advance.
Learn More: Sample Crisis Communication Plan for Endurance Events
Before you go to sleep each night, ask yourself: Are you smarter, have you learned something new?
Buffett shared this recommended ritual with Gong as well. We should mention that she went on to launch several companies and was named one of MIT's 35 Innovators of 2017. Now in her 30s, she still draws upon these words of wisdom. In our fast-paced industry, resting on our laurels is not an option. At the end of each event–even the end of each day–it's a good practice to reflect on lessons learned and possible areas of improvement, in addition to successes.
"A willingness to look unimaginative for a sustained period–or even to look foolish–is also essential."
Again, from the much-anticipated annual letter to shareholders, our final bit of Buffett-ology prompts decision-makers to act independently of widely-held views when necessary. This strategy, however, may place their decisions under a microscope. Perhaps you feel strongly about adding a distance to grow your event, or staying the course, so to speak, rather than making any changes. No matter the case, though your ideas may draw critiques, you are the ultimate authority on your event.
Learn More: Should I Expand My Race, Featuring Dave McGillivray