Ex-NFL Nutrition and Strength Coach Pratik Patel Joins Nix Biosensors As Director of Human Performance
August 2, 2022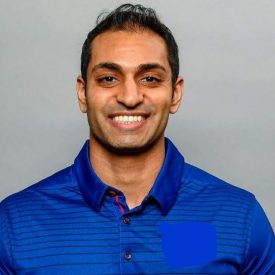 Launching late 2022, Nix's first consumer product is a small patch that analyzes sweat to provide real-time hydration guidance
BOSTON, MASS. — AUGUST 2, 2022/ENDURANCE SPORTSWIRE/ – Nix, the biosensor company delivering health and wellness data to consumers, today officially welcomes Pratik Patel, former Director of Performance Nutrition and Assistant Strength & Conditioning Coach for the New York Giants, to its rapidly growing team. As Nix's Director of Human Performance, Patel will play an integral role in expanding Nix beyond endurance sports to new segments with critical unmet needs in hydration management, such as football, baseball, hockey, motorsports, military, firefighting, and more.
Launching late 2022, Nix's first consumer device is a small patch that analyzes a user's sweat in real-time, telling them when, what, and how much to drink, quantifying fluid and electrolyte losses, and more. Nix plans to launch additional biosensors, designed specifically for team sports, military and labor applications, in 2023.
Patel brings more than a decade of experience in performance nutrition and hydration. Before working in the NFL, he directed sports nutrition programs for thousands of athletes at the University of Oregon, Michigan State University, and Kansas State University.
"When I was coaching professional athletes, having something like Nix at my disposal would have been an absolute game-changer," said Patel. "All coaches love performance data, but none have ever had access to data like this before. Being able to accurately monitor hydration levels in real-time is a massive development, and not just for professional athletes – anyone who sweats can benefit from Nix. That I get to be a part of building this technology is truly an incredible opportunity."
Patel is the latest to join Nix's team; other recent hires include Inga Stenta, Nix's Chief Marketing Officer and former Head of US Marketing at Reebok, and Tom Fowler, one of Nix's many advisors and former president of Polar. See Nix's full team here.
About Nix
Nix is redefining how we manage health by developing biosensors that empower consumers to access, understand, and act on their personal biology at home. Nix's first consumer product is a sweat patch that provides athletes, soldiers, and laborers with hydration data in real-time, helping them optimize safety and performance. Headquartered in Boston, Mass., Nix is led by Founder and CEO Meridith Cass, a graduate of Harvard Business School, former VC, and 9-time marathoner. Advisors include Tom Fowler, Former President of Polar; Dr. Bob Murray, Founder and former Director of the Gatorade Sports Science Institute, and Dean Karnazes, the legendary ultrarunner. Learn more at nixbiosensors.com.
​​Media Contact
Michael Finn
+1 952.426.8747