ENVO Drive E-Mobility Brand Taps SIMBOL Communications as PR Agency of Record
June 8, 2023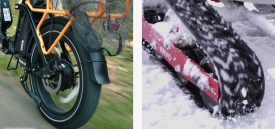 Canadian outfit offers e-bikes and other e-vehicles for 4-wheeling, snow, and water; aims to increase retailer base, consumer awareness of unique product line across North America
Vancouver, Canada (June 8, 2023) /ENDURANCE SPORTSWIRE/ – Hoping to build on seven years of steady growth across North America, ENVO Drive Systems – designer of traditional e-bikes as well as unique, purpose-built e-vehicles for snow, water and 4-wheeling – is partner with SIMBOL Communications as their PR Agency of Record. SIMBOL will handle all NA Media/Public Relations efforts and assist with other marketing strategies and initiatives.
Founded by engineers in 2015, ENVO aimed to produce technologically sophisticated, yet affordable e-mobility products, but not exclusively bikes as with many other brands. In fact their first product was the Electric SnowKart, a sort of mini e-snowmobile, soon followed by their first e-bike – the ENVO D35, still one of their most popular models – and their exciting new ENVO e-ATV. They've also experimented with e-watercraft over the years, and their latest one is currently under development.
"I strongly believe that micro-electric mobility is poised to emerge as a prominent industry, on par with the automotive sector, within the next two decades," says Ali KAzemkhani, Founder and CEO. "Presently, the widespread recognition is primarily associated with e-bikes and e-scooters. The conventional approach of relying on large, cumbersome vehicles for transportation between point A and point B is no longer considered efficient or sustainable. As a result, we are actively engaged in developing a wider range of e-mobility products to cater to these specific needs and purposes as well."
SIMBOL is eager to help spread the word about these fun, responsible products. "Our ideal client brand is one whose products are as high in quality and value as they are exceptional, and that's definitely the case with ENVO," says Scott Boulbol, Co-Founder. "When we find ourselves drooling over not just one but many (all?) of the products, that's a client we absolutely must have. Luckily we got the gig, and we can't wait to help show everyone just how awesome their bikes and other vehicles are."
A few of their representative models include:
ENVO Stax road e-bike ($1999): ENVO STAX is designed for a crowd looking for a sporty ride. A crowd looking for the lightest bike possible that can easily be carried around in condo staircases, public transits and more; yet looks and behaves like a regular bike in order to whip around the city.
Electric All-Terrain Vehicle (e-ATV) ($9499): The electric revolution is changing and shaping all aspects of transportation and off-roading should be no exception. ENVO's electric All-Terrain Vehicle (e-ATV) is silent, environmentally friendly, and performs on par with gasoline alternatives.
ENVO Flex Electric Snowbike: ($3199): The Flex Snowbike, engineered in Canada, is a one-of-a-kind winter machine designed by ENVO. With its innovative pedal-assist technology, it provides an electric boost for outdoor exercise in the snow. Get ready to experience a new level of winter fun with the Flex Snowbike. Conversion kits for your existing bike are also available.
For more product/brand info, visit the website: https://envodrive.com/
For media inquiries contact Scott Boulbol: scott@simbolpr.com; or Nic Sims: nic@simbolpr.com
For all other inquiries, contact Steve Gill: steve.g@envodrive.com; or Behnaz Arab: behnaz.a@envodrive.com
About ENVO Drive Systems: ENVO Drive Systems is a leading manufacturer of electric vehicles based in Vancouver, Canada. Our mission is to create a sustainable future by providing eco-friendly vehicles that are accessible, reliable, and affordable. We believe that electric mobility is the future, and we are committed to being at the forefront of this movement.
About SIMBOL Communications: SIMBOL Communications formed to help brands tell truthful, authentic stories in the outdoor, cycling, and fitness industries, through exposure in a wide variety of media outlets, developing creative content and sports marketing services. With their multiple decades of relevant experience — as both industry professionals and competitive enthusiasts — the founders of SIMBOL have all the tools to get powerful stories to the right audience.
nic@simbolpr.com, scott@simbolpr.com
310.935.9365; 303.519.3073