Enduro Bearings to Host 'Bearings & Brews Speakeasy' June 29 at Rapha's San Francisco Clubhouse
June 8, 2022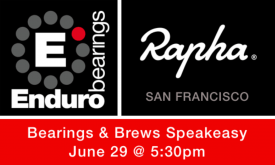 Public welcome; founder Matt Harvey and pro mechanic Dan Large will present Enduro Insider Tips on bike bearing design, manufacturing and service
Oakland, California (June 8, 2022) /ENDURANCE SPORTSWIRE/ – On the heels of Enduro Bearings' info-rich website launch last week, they'll be hosting a free-to-the-public 'Bearings & Brews Speakeasy' at the Rapha Clubhouse in San Francisco (2198 Filbert St.). The event will take place at 5:30pm on Wednesday, June 29.
Enduro Bearings' founder Matt Harvey will share how Enduro became the go-to performance bearing supplier for global bicycle and component manufacturers, while pro mechanic Dan Large will demonstrate proper bearing R&R and wrenching secrets for success. Attendees will also learn what's inside Enduro's lifetime-guaranteed Maxhit 440C stainless and XD15 ceramic-hybrid product lines, and why industry leaders annually spec millions of Enduro bearings to meet the varying demands of road, gravel and MTB riding.
"Our Speakeasy events are a perfect way to tell the Enduro story, and more importantly the story of bearings and bikes, all in a casual setting — and we couldn't think of a more fitting place than a Rapha Clubhouse," says Harvey. "We love opportunities like this to meet and chat directly with cyclists, take their questions, so they can make the best choices when buying or servicing their bikes."
All Rapha SF Speakeasy attendees will also receive a one-time 35% off coupon for online bearing and components. One lucky attendee will also receive a brand new Enduro Bearings XD15 ceramic-hybrid bottom bracket featuring Enduro's famous lifetime guarantee (which includes coverage against corrosion).
If that's not enough, attendees may "catch" a variety of giveaways including t-shirts and hats and other 'swag'; hydration from San Francisco's own Fort Point Beer Co. will be provided as well.
Enduro Bearings & Brews Speakeasy details:
Location: Rapha San Francisco
Address: 2198 Filbert St, San Francisco, CA 94123
Date/Time: June 29, 2022. 5:30pm
For more information and/or media inquiries please contact: Nic Sims at SIMBOL Communications: nic@simbolpr.com
About Enduro Bearings: Since 1996, Enduro Bearings has worked closely with bicycle manufacturers to provide the best bearing solutions for every application. We are engineers, we are innovators, we are bike riders, and we build performance products that endure under the toughest conditions. Our facilities in the USA and Singapore supply 'Enduro Bearings Inside' technology to cyclists around the world.
###
Press Contact
Nic Sims: SIMBOL Communications
310.935.9365