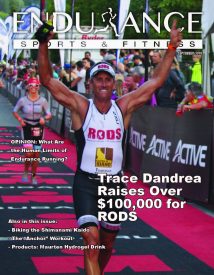 The Launch of the September Issue Signifies A Shift in Publishing Frequency
Vienna, VA – Endurance Sports & Fitness Magazine (ES&F), a globally publication focusing on all aspects of ultra-distance running, cycling, triathlon and adventure racing today launches its September 2018 Issue in a shorter format with HTML article options for readers. This new way of "micro-publishing" will allow for ES&F to focus on producing shorter digital edition magazines monthly instead of bi-monthly.
The decision to change the publishing schedule came over the summer, when ES&F conducted a Reader Survey. Most endurance athletes polled wanted content more frequently; stating that they get most of their content from ES&F through Twitter announcements or through other social media venues like Facebook, Linked In, Google+, and Instagram.
"The survey results were clear, and frankly I am excited about it!" said Alix Shutello, CEO and Publisher. "Now I can publish shorter issues more frequently. This means more cover opportunities for athletes and more communications with my readers."
No More Print
With more and more athletes preferring to read content online, shifting away from a print publication was the sensible thing to do. Many athletes surveyed were adamant that they wanted more frequent communications from the publication in a digital format. Therefore, ES&F discontinued the print edition effective after the July/August Issue. The rationale for this was supported by print subscribers who understood the nature of the magazine and how busy the readers are.
"I contacted my print subscribers and gave them the news. They were very supportive and look forward to going digital," Shutello said. "At the end of the day, it's about listening to my readers."
New Subscription Choices
The Endurance Sports & Fitness Magazine website was also redesigned a little bit to broaden the menu of items readers can find. All advertisers are supported with advertorials, images of ads and videos and a Partners page. Further, potential subscribers also have a few choices. They can either subscribe to the digital content ($20/year), purchase a day-pass ($2) or sign up for a free newsletter. Advertisers can quickly go online and purchase an annual ad package (only $600).
For more information visit https://www.endurancesportsandfitness.com/
To read the September issue online, visit: https://www.endurancesportsandfitness.com/esf-september-2018-issue/
###
In addition to building awareness, ES&F is also looking to raise seed money to add more reporters, columnists and photographers to the publishing team. To do this, ES&F started a GoFundMe campaign. To learn more about Endurance Sports and Fitness Magazine, visit www.EnduranceSportsandFitness.com. All past digital issues can be found on Titlestand.
About Endurance Sports & Fitness Magazine (ES&F)
ES&F covers content on all aspects of endurance racing and training. Our stories discuss the mental aspects of training, nutrition, books, gear, race calendars and more. Our magazine offers more than just content; we also offer advertising, marketing and ad design services. We also have a prolific following on Facebook and LinkedIn. ES&F publishes 6 times a year. Issues are published monthly starting in September 2018.