ElliptiGO Redefines Road Performance With The RSUB
June 25, 2019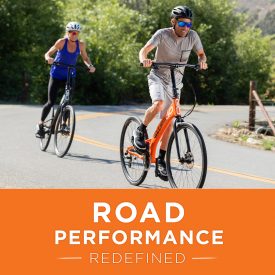 The industry leader debuts their first full-size tire SUB built for the road
SAN DIEGO, Calif. (June 25, 2019) – ElliptiGO Inc., the world leader and pioneer of stand up cycling, continues to empower cyclists to redefine their ride with the launch of the Road Stand Up Bike. The RSUB is ElliptiGO's first road product featuring full-size, 700c tires, as well as disk brakes, for high-performance handling. It features ElliptiGO's signature advantages: a comfortable stand-up position, a hyper-efficient, full-body workout and non-stop fun. Priced at $1199, the RSUB is now available at select dealers in the U.S. and online at www.ElliptiGO.com/RSUB.
"The success of the SUB combined with the development of the MSUB presented our team with an opportunity to develop a large-wheel road-centric product," said Bryan Pate, CEO of ElliptiGO. "Our fans and followers have consistently asked that we explore bikes that deliver on our signature benefits while utilizing full-size tires. We're excited to answer those requests with a truly premium experience that will help both competitive athletes and casual cruisers see results."
"Our brand was born out of problem-solving, and our engineering team continues to try to cure the common issues that traditional bikes present in exciting and innovative ways," said Brent Teal, CTO of ElliptiGO. "RSUB riders will feel the power and performance they expect from a traditional road bike, but without the back, neck and seat discomfort thanks to the unique, ergonomic geometry we continue to create."
The RSUB stands alongside the original SUB and the off-road MSUB, as well as ElliptiGO's long-stride and compact-stride elliptical models. With more than 27,000 ElliptiGO bikes on the road worldwide, the stand up cycling category is impacting the lives of more riders than ever before.
For more information on ElliptiGO or to find a dealer, visit www.elliptigo.com.
***
About ElliptiGO
Headquartered in Solana Beach, Calif., ElliptiGO Inc. is the pioneer and world leader in stand up cycling. ElliptiGO launched the first elliptical bicycle in 2010 and, most recently, the Road Stand Up Bike (RSUB.) All ElliptiGO bikes deliver an enjoyable, comfortable and hyper-efficient workout experience that inspires people to improve their lives and enjoy the outdoors. ElliptiGO bikes are distributed through specialty running, cycling and fitness retailers nationwide, at the ElliptiGO headquarters and online. For more information, visit www.elliptigo.com.