Drever, Killam win XTERRA Whistler
September 20, 2023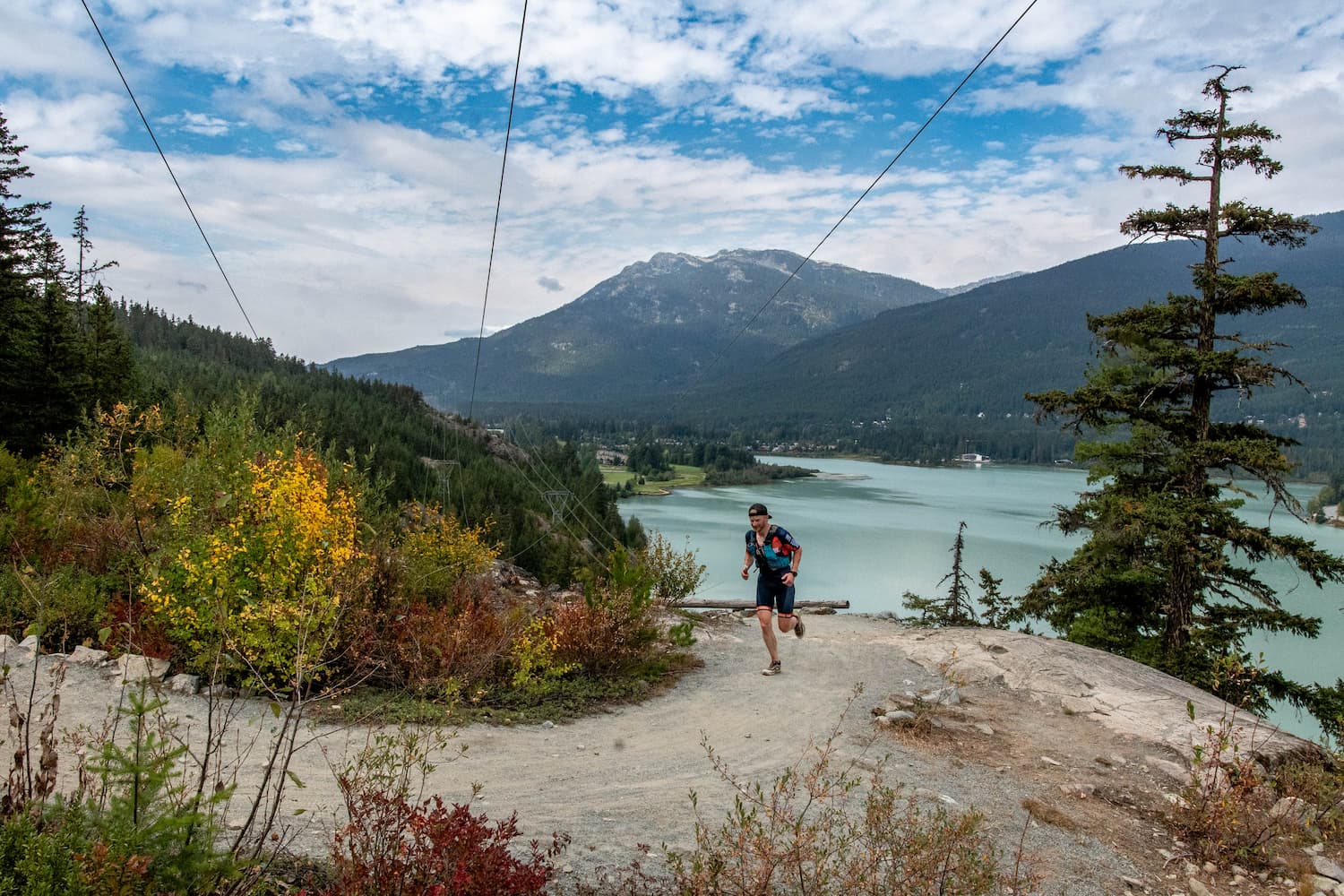 WHISTLER, September, 2023 /ENDURANCE SPORTSWIRE/ – The town of Whistler welcomed triathletes from elite and multiple age group divisions to the start line of the second edition of XTERRA Whistler. This event not only concluded the 2023 Americas Tour Schedule but also stood as the fourth qualifying event in the XTERRA World Tour for the 2024 XTERRA World Championship.
Competitors were vying for a piece of the $3,000CAD elite prize purse and one of the 28 qualifying slots available for the 2024 XTERRA World Championship. The race began with athletes diving into the slightly cool waters of Lost Lake Park for a 1.5K swim. The subsequent 25.2K bike segment presented a mix of terrains, including gravel roads, double tracks, and traditional single tracks in the Lost Lake area. The 10K run was notably highlighted by a descent of the Green Lake Loop and a concluding stretch of elevated slatted woodwork trails.
The Male Elite category was closely contested among the top 2 contenders. Nathan Killam clinched the top spot with a time of 2 hours, 27 minutes, and 42 seconds, closely followed by Elliot Holtham, who finished just 12 seconds later in 2 hours, 27 minutes, and 54 seconds. Holtham demonstrated a faster swim by 55 seconds, but Killam's strong push in the bike and run segments secured his lead. Joeri Deleebeeck took the third position, completing the race in 2 hours, 35 minutes, and 35 seconds.
Further down the rankings, Humberto Rivera finished sixth with a time of 2 hours, 43 minutes, and 16 seconds, while Brian Summers was hot on his heels, finishing seventh in 2 hours, 44 minutes, and 40 seconds. Evan Girard rounded out the elite division, securing the twelfth overall position with a time of 2 hours, 54 minutes, and 33 seconds. Notably, while Girard had the slowest swim time among the elite men, his consistent performance in the other segments ensured his place in the top rankings.
Even a few seconds saved or lost in transitions can influence an athlete's overall standing, especially in a race where the top contenders are closely matched. Holtham's quicker 40-second transition in T2, compared to Killam's 56-seconds, contributed to the extremely tight final stretch.
Humberto Rivera, who finished sixth, had the lengthiest T1 transition at 1 minute and 45 seconds, which could have impacted his overall standing, especially when compared to others like Joeri Deleebeeck, who had a T1 time of 1 minute and 19 seconds.
In contrast, Brian Summers, who finished just behind Rivera in seventh place, had a longer T2 transition time of 1 minute and 1 second, which might have affected his final position.
The Battle of Killam Vs. Holtham
Nathan Killam put in a standout performance during the race. After a strong swim, where he emerged third, he quickly moved up to first place during the initial 15 minutes on the bike. Nathan shared his strategy, saying, "I pushed my best on the hill and tried to open it up on the downhill without blowing out an ankle, which was a bit of a task at times, especially on the wall." He further described the run course as "definitely the most gnarly part. The wall is gonna make you hate yourself, but it's a lot of fun. You get some really great views of the lake. Lots of elevation change. Everyone should come here and race." He concluded his reflections on the day by stating, "The weather really lent to fast running. I really enjoyed the run course and came out on top of the field."
Elliot Holtham, hailing from Vancouver, B.C., clinched second place in the Elite Men's race. Sharing his experience, Elliot said, "The course is a lot of single track and mix of flow. The swim was good, I tried to move over to the side so people could pass me." However, the race wasn't without challenges for Holtham. He revealed, "I had some technical issues on the Bike. His shifter snapped off so it was a little bit challenging out there. I was doing a combination of 20 rpm and pushing it at some points. Got passed on the bike by Nathan." Despite these setbacks, Holtham displayed resilience. "When I came off the bike, I was 3.5 minutes down. I closed the gap to Nathan to 5-10 seconds at the end, but it looked like I needed a few more meters at the end."
In the Female Elite division, Christy Drever and Andrea Burley went head-to-head in a closely contested race. Burley finished 3rd overall last year at XTERRA Whistler with Drever finishing second. This year, Drever took the win with a time of 2 hours, 59 minutes, and 9 seconds, placing her ahead of Burley, who completed the race in 3 hours, 4 minutes, and 39 seconds.
The swim segment saw Drever taking a significant lead, finishing in 25 minutes and 53 seconds, a full 5 minutes and 5 seconds faster than Burley. However, Burley managed to claw back some time during the biking segment, completing it 4 minutes and 2 seconds faster than Drever. Despite this, Drever's prowess in the run segment, where she outpaced Burley by 4 minutes and 3 seconds, ensured her lead. Christy Drever had a quicker T1 by 27 seconds, while Andrea Burley had a quicker T2 by 2 seconds. In the end, the transitions played a minor role in the overall timings, with both athletes showcasing swift changeovers between segments.
Victory Lane With Christy Drever
Christy Drever from Squamish, BC, emerged as the victor of XTERRA Whistler. Expressing her satisfaction, Drever said, "Today was an amazing day. I woke up feeling pretty snappy. I love this course; I know the trails. Swimming is not my strength, but I actually had a pretty strong swim for myself." She acknowledged the competition, particularly from Andrea Burley, known for her mountain biking skills. Drever elaborated, "I've crashed on this course twice before. So happy to have a clean ride. Andrea Burley was gaining on me." She further explained, "Fortunately I had a little bit of a gap. Normally she does catch me on the bike, but I was able to have a strong controlled run." Drever holds the record for the fastest run time for women at this event, attributing her success to the favorable conditions in Whistler during September.
The event concluded with widespread appreciation for the organization and the course. The consensus was clear: Whistler offers a true XTERRA experience. Special commendations were given to Kristian Manietta from Endurance Specific and the entire team for orchestrating a remarkable weekend in Canada's adventure capital. The XTERRA community expressed gratitude to all participants for making the return to XTERRA Whistler a memorable one.
Official results and time splits can be found here.