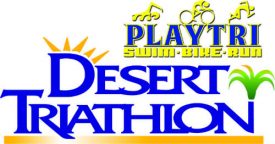 Playtri Oceanside to be exclusive triathlon store and rental partner for 2019 Desert Triathlon
Southland Events today announced Playtri Oceanside as the title sponsor of Desert Triathlon. Playtri, a premiere bike and tri shop offering everything you need to lead a healthy life, train for your next triathlon, and everything in between, will be the exclusive triathlon store and rental partner of this iconic, season-opening race.
"We're very excited to be working with Playtri Oceanside," said Matt Sills, owner of Southland Events and race director of Desert Triathlon. "Having them as title sponsor will allow us to give our participants access to great products and professional expertise before, during, and after the race."
Desert Triathlon brings more than 1,000 triathletes out to Lake Cahuilla in La Quinta, CA every year to start their triathlon season. The event includes a sprint triathlon and duathlon, as well as an Olympic triathlon and aquabike. For 2019, in honor of the race's 20th anniversary, participants will be able to complete the 2D Challenge, racing both the sprint and Olympic distances on the same day.
"We have been coming out to this event for years and always loved it, so to be able to now partner up with the team at Desert Tri is a huge honor," said Matt Houston, co-owner of Playtri Oceanside. "We look forward to another awesome year in the desert!"
The Playtri Desert Triathlon will take place on March 3, 2019 at Lake Cahuilla Recreation Area in La Quinta, CA. Visit deserttriathlon.com to learn more.
About Southland Events
Founded in 2015, Southland Events is a San Clemente, CA based endurance event production company bringing great local races to Southern California. Our mission is to create and produce events that allow athletes of all types to challenge themselves in the greatest place on earth. For more information about Southland Events, visit southland-events.com.
About Playtri Oceanside
Playtri Oceanside was founded in December of 2015 as a specialty bike and tri store.  After competing in triathlon for many years, owners Matt and Sabrina Houston, along with their amazing staff, have created a community at the shop focused around providing every customer with the keys to success. By combining huge product selection, knowledgeable staff, athletic training, and many great services Playtri really is a one stop shop for all things swim, bike, and run. Stop by 7 days a week and let us know how we can help you crush your goals! For more information about Playtri Oceanside, visit playtrioceanside.com.