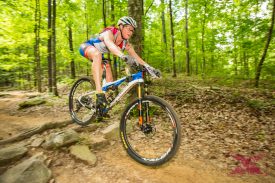 The fifth stop on the 2017 XTERRA Pan America Tour has attracted 34 elites – 17 men and 17 women – from 10 countries to Oak Mountain State Park in Shelby County, Alabama for a hype-worthy showdown on arguably the best course in the Americas. The elite field for Saturday's XTERRA Oak Mountain off-road tri, which combines a one-mile swim with a 20-mile mountain bike and 6-mile trail run, features reigning Pan Am Tour Champions Josiah Middaugh and Suzie Snyder and a deep, diverse field of contenders.
The fifth stop on the 2017 XTERRA Pan America Tour has attracted 34 elites – 17 men and 17 women – from 10 countries to Oak Mountain State Park in Shelby County, Alabama for a hype-worthy showdown on arguably the best course in the Americas.
The elite field for Saturday's XTERRA Oak Mountain off-road tri, which combines a one-mile swim with a 20-mile mountain bike and 6-mile trail run, features reigning Pan Am Tour Champions Josiah Middaugh and Suzie Snyder and a deep, diverse field of contenders.
In the men's race the much-anticipated re-match of Middaugh, the 2015 XTERRA World Champ, with Mauricio Mendez, the 2016 XTERRA World Champ, has been put on hold as Mendez suffered a muscle strain at IM 70.3 Monterrey over the weekend and has doctor's orders to let it rest.
In his place another superstar from Mexico, Francisco Serrano, has come to the forefront.  Serrano just finished 3rd at the same race in his hometown of Monterrey, Mexico, and is one of only a few men through the years that has been able to get the better of Middaugh.
"I'm healthy, feeling good and hope to recover fast from the 70.3 in my hometown," said Serrano.  "Really just hoping to be on the podium with such a strong field.  It's my first time to race at Oak Mountain, but I've heard nothing but great things about the course."
Middaugh, who has won three of the last four races and been in the top 3 at eight of the last 10 here in Alabama, can expect he'll be chasing a big group of guys who will beat him out of the swim including the current Pan Am Tour points leader Jean-Philippe Thibodeau of Quebec, Canada.
Thibodeau, who comes from a swimming background and was first out of the water at XTERRA Argentina earlier this year, is confident in his swim and his abilities, but not so sure he can beat Middaugh on this course.
"What would it take to beat Josiah?  A mechanical problem for him," laughed Thibodeau.  "Maybe if he has a bad day and I have a good day I could win, but if he has a good day and I have a good day there is no way I could beat him. Josiah is in another league.  He's a past world champion so it's another step for a guy like me. I will not be a world champ, but I could be the Pan Am Tour winner."
Thibodeau finished 3rd at XTERRA Argentina and Costa Rica and fourth at XTERRA Chile to collect 178 points, 19 pts ahead of Branden Rakita from the U.S.  There are still six races remaining, however, and the finale in Utah on Sept. 16 is worth double points so the title is still very much up for grabs.
Rakita, who sits in second and also has his eyes on a tour title, said he's excited to get the U.S. racing season underway.  This is his ninth-time racing in Alabama, and is one of his favorite courses in the world.
"I am very excited for XTERRA Oak Mtn, after the three early races where I was finding my rhythm," said Rakita, who finished 4th in the Pan Am Tour last year.  "I have been able to put together some very solid training since then and am really looking forward to throwing down with everyone.  It is going to be a very challenging race, the field is going to be so deep and it will be very interesting, we are going to be pushing each other to higher levels.  The way things look the heat and humidity will become a factor this year unlike the cooler years the last few years."
Canadian Karsten Madsen had a breakout race here last year, finishing third behind only Middaugh and Mendez, but is having a less than ideal build-up to this one.
"This has been one of my worst lead up to a race I've had in a long time," Madsen explains. "I had a crash in my last race at ITU Cam Tri Barbados, then followed that up by getting sick with a cold and to ice it all off I got olecranon bursitis in my elbow."
While getting himself healthy and in top shape is his top priority, Madsen couldn't miss the opportunity to race at Oak Mountain State Park.
"If it was any other race I would have pulled out but this race in Alabama is special to me," he said.  "I love racing here and I still believe I can put forth a solid race. As many other great athletes like Conrad Stoltz have said before me, this course is truly what XTERRA is all about. If you can't ride a mountain bike you will be found out. Every year this course has taken a bit of my skin and in 2015 sent me to the hospital. So, its truly the real deal."
Speaking of the real deal, Kieran McPherson from New Zealand is proving he's a legit contender this season.  Already this season the 25-year-old from Waikato won XTERRA Thailand, was the co-champ at XTERRA Malaysia, and finished 2nd at XTERRA Brazil last weekend.
"A year in the sport with some more experience and XTERRA specific training is starting to pay off," said McPherson, who finished 5th in the Pan Am Tour last year.
Another man to watch out for is wily veteran Brian Smith, who is lethal on the bike and is now coached by Josiah Middaugh himself.
"After my race at Cross Tri Worlds in Australia last year I decided to step up my game and hire a coach," said Smith, the former XTERRA Winter World Champ who won three ski-mountaineering events in the "off-season" while training for triathlons. "I want to see what is possible if I dedicate my training to triathlon specifically.  I contacted Josiah and we made a plan that would work for me and my schedule.  I plan to compete as a Middaugh Coaching athlete in his team kit.  My fitness is better than it has ever been and I'm as light as I was 10 years ago.  I can't wait to test myself in Alabama."
Fellow Coloradoan Ryan Ignatz is also eager to see what he can do with a fit-ready body.
"I'm happy to finally be back to healthy after a lot of time with therapy and spending time in the gym throwing weights around," said Ignatz, who has raced this course 10 times. "I'm motivated to do some racing and Oak Mountain is one of my all-time favorite race courses. Now that I've raced once (at XTERRA Costa Rica where he finished 5th) and had some time to do some actual race oriented workouts, I'm feeling fit again and would like to be in the top five."
Chris Ganter, who finished third behind Braden Currie and Middaugh two years ago on this course, is simply looking to find the joy in racing and hoping that leads him back to peak performances.
"This year I'm focused on having fun," he said.  "I put way too much pressure on myself last year and it showed in my performances.  This year, I'm racing a lot more mountain bike races between a few XTERRA races that I find suit me.  So, I'm going into Alabama with no expectations.  I'm going to try to show up ready to race hard and have a blast! If I enjoy myself and am still competitive, I'll take a hard look at chasing series points next season as I'm turning 40 in 2018!"
The wild-card on Saturday has got to be Veit Hoenle from Germany, who was 4th at XTERRA Switzerland and France last year, where the competition level is very high.
"Feeling pretty sharp and looking forward to race my first XTERRA in America," exclaimed Hoenle, who is living in Georgia this year while studying at Savannah College of Art and Design (SCAD) and competing for the SCAD Cycling and Running team.
Other contenders include veterans like Ryan DeCook and Cody Waite, who said this is his farewell season on the pro tour, and a host of first-or-second year pros like Cedric Wane from Tahiti, Dan Molnar from North Dakota (via Hungary), Michael Nunez from Utah, Ian King and Greg Schott from Virginia.
ELITE MEN
2016/2017 Pan Am Tour Rank – Name, Hometown
NR/1 – Jean-Philippe Thibodeau, Quebec, QC, Canada
4/2 – Branden Rakita, Colorado Springs, CO, USA
1/9 – Josiah Middaugh, Eagle-Vail, CO, USA
7/10 – Ian King, Virginia Beach, VA, USA
5/13 – Kieran McPherson, Waikato, New Zealand
13/16 – Ryan Ignatz, Boulder, CO, USA
48/20 – Greg Schott, Chesterfield, VA, USA
51/30 – Micheal Nunez, Salt Lake City, UT, USA
NR/NR – Ryan DeCook, Washington, MI, USA
6/NR – Chris Ganter, Boise, ID, USA
NR/NR – Veit Hoenle, Freiburg, Germany
3/NR – Karsten Madsen, Guelph, ON, Canada
NR/NR – Dan Molnar, Salgotarjan, Hungary
NR/NR – Francisco Serrano, Monterrey, Mexico
14/NR – Brian Smith, Gunnison, CO, USA
11/NR – Cody Waite, Lakewood, CO, USA
NR/NR – Cedric Wane, Papeete, Tahiti
In the women's race, we have an intriguing trio of top-flight elites including two-time XTERRA World Champion Lesley Paterson, the reigning Pan Am Tour Champion Suzie Snyder, and the 2015 XTERRA USA and U.S. Pro Series Champion Emma Garrard.
It'll be the first-time those three have all been on the starting line at the same time, in some time.  Garrard sat out last season while pregnant with her second child (read her story here), Snyder was forced to sit out the big races in 2015 after a bad injury to her hip (watch a 2015 profile on her here), and Paterson has a story all her own (read 10 things you didn't know about her here).
With each of the three stars living crazy hectic lives outside of the racing scene, there is simply no telling what will unfold on race day.
"The Bama race is a very special one for me as I have so many fond memories of it," said Paterson, who won this race in 2012, 2013, and 2015.  "It was my first XTERRA podium in 2008 behind Shonny and then I won ITU Cross Tri Worlds in conjunction with the XTERRA Southeast Championship race there in 2012. More than anything though, it is the beauty of the course, and my wonderful homestay Don Frank. XTERRA is about the community and the natural environment in which we race, and 'Bama ticks off all those boxes for me!"
For Snyder, Saturday's race is all about keeping the momentum going.
"I feel good and am ready to test my fitness and skills, and I love this course," said Snyder, who has already won XTERRA Argentina, XTERRA Costa Rica, and came second to Barbara Riveros at XTERRA Chile.
"Racing so early in the season was a little scary and challenging, but I'm happy to have brushed off the dust so I feel a little more confident going into the first Gold-level points race in Alabama," said Snyder, who is second in the Pan Am Tour points series with 217 points, just four points behind Laura Mira Dias of Brazil.  "I've raced at Oak Mountain at least nine or 10 times, two or three as an amateur and every year since 2010 as a pro. I love this course; fast swim, fun, diverse single track mountain bike course with some technically challenging sections, some fast sections, and one decent climb. And the run can be a little challenging because it's gently rolling terrain so you want to go fast but it's easy to roll an ankle or catch a toe so you have to keep your wits and maintain control."
For Garrard, it's simply getting back to business after the birth of her second child in January.
"I am healthy but certainly not fast as ever," said Garrard, who has done just one 10-mile mountain bike race so far this season.  "My goals are to finish, see where my fitness is and score some points for the overall series. After racing four months postpartum with my first son I swore I would wait longer next time, but here I am again."
While the show starts with Paterson, Snyder, and Garrard, there are lots of other serious contenders for the crown including last year's Pan Am Tour and XTERRA Oak Mountain runner-up Maia Ignatz.
"I am excited and looking forward to this race, and am grateful to be healthy and as fast as ever going into Oak Mountain," said Ignatz, who was in second-place and closing on Snyder during the run portion at XTERRA Costa Rica before going off-course and being DQ'd.  "It was the best and worst race of my life, and I've been looking forward to this next opportunity so I can get that devastating race experience out of my head.  Being at Oak Mountain will help, because I love the course. I think this year will be my 8th time racing here, and I just love the lush green trails that are very different from what I ride at home in the Rocky Mountains, and the occasional owl sighting!"
Other Americans sure to be in the mix include Kara LaPoint, who was 2nd at XTERRA Costa Rica for the second year in a row and sits third in the Pan Am Tour rankings, Julie Baker, winner of XTERRA Beaver Creek last year, Jaime Brede, a world-class mountain biker, Debby Sullivan, who won XTERRA Jersey Devil a few weeks ago, Kelli Montgomery, a former amateur World Champ in her first year as an elite, Liz Gruber, who will be making her first appearance at Oak Mountain, the veteran Caroline Colonna, and Anne Usher in her first XTERRA race as a pro.
"I am excited to get back to Alabama," exclaimed Sullivan.  "It will be awesome to see how all the hard work is coming together so far. I am working through some injuries still but am feeling pretty good and ready to test things out and give it a good hard fight. This will be my 3rd time racing at Oak Mountain. First time I had terrible luck and ripped a sidewall just above blood rock. Last year was much better and I earned my first podium finishing 4th. This course is very fun and I think suits a well-rounded rider and not just a climber as many courses do. You have to be able to handle your bike well to go fast but you also have a good climb in there."
Not to be overlooked is the international contingent which features three Canadians – XTERRA Victoria Champ Katie Button, Katharine Carter, and Annie Bergen, and XTERRA's best from Brazil – Sabrina Gobbo (a 4x XTERRA Brazil Champ) and Laura Mira Dias (the current points leader on the Pan Am Tour).
"I have been feeling pretty good lately, and I'm looking forward to getting back into some out of country XTERRA racing again and testing myself against some steeper competition," said Button, who has been racing mountain bikes in B.C. this off-season.  "I've raced in Alabama four times and I always love coming to this race. For sure it's one of the best venues, the trails are so fast and fun and the locals are such awesome people."
The race is Saturday, with an 8:20am CST.  Follow along on twitter @xterraoffroad, #xterrabama, and facebook.com/xterraplanet.
ELITE WOMEN
2016/2017 Pan Am Tour Rank – Name, Hometown
9/1 – Laura Mira Dias, Lavras, Brazil
1/2 – Suzie Snyder, Reno, NV, USA
3/3 – Kara LaPoint, Truckee, CA, USA
5/4 – Sabrina Gobbo, Sao Paulo, Brazil
24/7 – Annie Bergen, Kelowna, BC, CAN
20/10 – Liz Gruber, Colorado Springs, CO, USA
8/12 – Caroline Colonna, Taos, NM, USA
12/NR – Julie Baker, Sonora, CA, USA
29/NR – Jaime Brede, Breckenridge, CO, USA
18/NR – Katie Button, Sechelt, BC, Canada
6/NR – Katharine Carter, N. Vancouver, BC, Canada
NR/NR – Emma Garrard, Park City, UT, USA
2/NR – Maia Ignatz, Boulder, CO, USA
NR/NR – Kelli Montgomery, Wallingford, CT, USA
NR/NR – Lesley Paterson, Sterling, Scotland
NR/NR – Anne Usher, Portland, OR, USA
7/NR – Debby Sullivan, Stafford, VA, USA
About TEAM Unlimited/XTERRA
TEAM Unlimited LLC, founded in 1988, is the Hawaii-based television, events, and marketing company that brought off-road triathlon and trail running to the world under the brand name XTERRA.  From a one-off race held on the most remote island chain in the world XTERRA evolved into an endurance sports lifestyle with worldwide appeal. Over the past 20 years XTERRA transcended its status as 'just a race' to become a bona-fide way of life for thousands of intrepid athletes as well as an emerging brand in the outdoor industry.  In 2017 XTERRA will offer more than 200 off-road triathlons and trail running events in 33+ countries worldwide and produce 10 adventure television shows for international distribution.  Learn more at xterraplanet.com  and xterracontent.com.