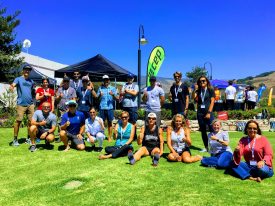 Seventh edition returns to Estes Park, Colorado, October 9-12, 2019
Estes Park, Colorado – Active at Altitude, has announced that the seventh edition of the industry leading event will return to Estes Park, Colorado October 9-12, 2019. This must-attend event for trail runners and race directors will be hosted at the historic Stanley Hotel, close to downtown Estes Park.
This will be the sixth time the Conference will be held in Estes Park, returning to its roots after a successful move to San Luis Obispo, California, for the 2018 Conference. In 2019, organizers will continue to refine and develop their Conference model, and consider a move to an alternate location in 2020, one that provides necessary resources as well as a strong and vibrant trail running community.
Event Director Terry Chiplin said, "We are delighted to return to the home of the US Trail
Running Conference for the 2019 edition. Estes Park, and Rocky Mountain National Park, has been one of the top destinations in the US for trail running, and we look forward to welcoming more new visitors to Estes Park. The 2018 Conference featured our best content yet, and we look forward to developing the lessons we learned from those excellent sessions to provide an even better event next year in Estes Park. We are very excited at the progress the Conference has made on every level over the last six years, and are grateful for the support and partnership of the American Trail Running Association."
Wednesday October 9 to Friday October 11, 2019, will focus on trail race directors, with a
combination of expert presenters, round table workshops, and an expo. The final day of the Conference, Saturday October 12, 2019, will be centered on topics specific to trail runners and trail race participants. A coaches' corner, interactive workshops, national-class guest athletes, a running form clinic, and an expo will provide a day of education, inspiration, and the opportunity to do some shopping for trail-trail-specific gear and products.
Registration opened on Black Friday, November 23 and numbers are already trending at record levels. Organizers expect to have a sell-out event by the time online registration closes in early October. Interested sponsors and vendors are invited to contact Chiplin, to explore opportunities available at this exciting Conference. Places are limited and interested participants are recommended to contact early to avoid disappointment.
Registration is open at www.ustrailrunningconference.com
For additional details contact Event Director, Terry Chiplin, terry@ustrailrunningconference.com, or 303-304-9159.
#TrailConference #trailrunning #estespark #colorado #atra #activeataltitude