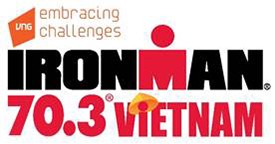 General Registration for IRONMAN 70.3 Vietnam to open on November 1, 2014
MELBOURNE/TAMPA (October 30, 2014) – The growth in popularity of IRONMAN in the Asia-Pacific region continues with the exciting addition of the VNG IRONMAN® 70.3® Vietnam triathlon. The inaugural race will take place on May 10, 2015. This latest edition to the IRONMAN 70.3 circuit continues IRONMAN's long-standing partnership with Sunrise Events, Inc., the Philippines's leading sporting event company.
"We are thrilled to share the news of the first IRONMAN race in Vietnam," said IRONMAN Asia-Pacific CEO, Geoff Meyer. "The growth of the sport in the Asia-Pacific region in the last few years has been extraordinary. We are delighted to add another race to the IRONMAN calendar in such a spectacular destination, and are delighted to continue our work with the team from Sunrise Events."
"We are excited to launch the inaugural VNG IRONMAN 70.3 Vietnam event in Danang next May," said Wilfred "Fred" Steven Uytengsu, Jr., President and Chairman of Sunrise Events. "While triathlon is growing in Vietnam, we believe this will be a highly attractive destination for triathletes in the region and beyond," Uytengsu continued. "We have already had many express interest, including several professionals who asked to be part of the inaugural event. The course is expected to be fast and scenic and we look forward to seeing a large turnout in year one."
The event will offer athletes a unique and unforgettable racing experience. Danang is situated along an immaculate 30km stretch of white, sandy beach in a region surrounded by three UNESCO World Heritage sites including the Imperial City of Hue, Hoi An Ancient Town and the My Son ruins.
Vietnam's third-largest city is a bucket list destination for travelers and, with its mix of cultural attractions, famous cuisine, beautiful beaches and world-class resorts, is sure to become a favorite of triathletes all over the world.
IRONMAN 70.3 Vietnam will offer a $15,000 USD professional prize purse and 30 qualifying age group slots for the 2015 IRONMAN 70.3 World Championship in Zell am See-Kaprun, SalzburgerLand, Austria.
General registration for IRONMAN 70.3 Vietnam will open November 1, 2014. For more information on the IRONMAN brand and global event series, visit www.ironman.com. Athlete inquiries may be directed to secretariat@ironman703vietnam.com. Media may contact daniel.hoy@ironman.com.
About IRONMAN
The iconic IRONMAN® Series of events is the largest participation sports platform in the world. Since the inception of the IRONMAN® brand in 1978, athletes have proven that ANYTHING IS POSSIBLE® by crossing finish lines at the world's most challenging endurance races. Recognized for excellence through distinguished events, world-class athletes and quality products, IRONMAN has grown from a single race to a global sensation with more than 190 events across five unique brands: IRONMAN®, IRONMAN® 70.3®, 5150™ Triathlon Series, Iron Girl® and IRONKIDS®. For more information, visit www.ironman.com.
IRONMAN®
2701 North Rocky Point Dr | Suite 1250
Tampa, FL 33607
(P) 813.868.5940 | (F) 813.868.5930
www.ironman.com