Cyclists from 70 countries competed for the GFNY Championship crown
May 19, 2015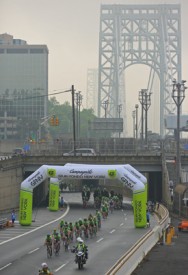 Camila Cortes Severino (COL) and Oscar Tovar (Colombia) are the 2015 GFNY Champions; Thousands of cyclists from around the globe took on the 100 mile cycling marathon
Five thousand cyclists from 70 countries and 48 states were treated to perfect weather and a great atmosphere today at the Fifth Annual Campagnolo Gran Fondo New York (GFNY) and inaugural GFNY Championship. The race, modeled after the popular and challenging Gran Fondo cycling marathon that originated in Italy, is now in its fifth season and has drawn elite cyclists as well as competitive amateurs who test their skills on a 50 or 100-mile course. GFNY is one of the largest competitive cycling events in the world, boasting world's most international peloton.
"GFNY has become globally recognized as a quality brand in competitive cycling. We are thrilled that this year's event again drew so much global and local interest," said GFNY President Lidia Fluhme.
Riders began the race at 7am on world's busiest bridge, George Washington Bridge, and then traveled through scenic New York and New Jersey via the beautiful Bear Mountain State Park, before concluding in the local cycling hotspot, Fort Lee, NJ.
GFNY Colombia 2015 winner Oscar Tovar from Colombia won the men's race in 4:14:24h and Camila Cortes (Colombia) took the women's race in 4:38:33h.
This year's race was also the first ever GFNY Championship. The 2014/15 GFNY World Series, which included the races Limar GFNY Italia, GFNY Cozumel-Mexico, GFNY Puerto Rico, Oakley GFNY Barcelona, CRM GFNY Colombia, attracted international cyclists to compete in and ride the flagship event in New York. Top finishers in each category from those six international events, as well as last year's Campagnolo GFNY, received a front start at the inaugural 2015 Campagnolo GFNY Championship.
Notable individuals that participated in GFNY included Amani Toomer, former receiver for the New York Giants and Olympic Silver Medalist Nelson Vails.
Located directly across from the George Washington Bridge, Fort Lee, NJ is fast becoming a cycling hub in the region.
"Fort Lee is thrilled to host the race finish and festivities and to welcome riders, near and far to celebrate their hard-earned achievement in our town," said Fort Lee Mayor Mark Sokolich. "Cycling has become part of Fort Lee's culture and events like GFNY are economic drivers for our communities and local businesses."
As riders were welcomed across the finish line, festivities continued up the road at PIP Park, where participants and spectators relaxed and recovered with food and drinks.
Official Race Charity Operation Smile
Campagnolo GFNY continued its partnership for the fourth year with Operation Smile, an international children's medical charity that provides funding for essential medical procedures that help children born with facial deformities in over 60 countries. Operation Smile is the official charity of the 2015 Campagnolo GFNY.
GFNY WORLD CALENDAR
May 17, 2015 – GFNY Championship at Campagnolo Gran Fondo New York – gfny.cc
June 28, 2015 – Wear-Design GFNY Mont Ventoux – gfnymontventoux.com
September 20, 2015 – GFNY Italia – gfnyitalia.com
November 22, 2015 – GFNY Cozumel-Mexico – gfnycozumel.com
December 6, 2015 – GFNY Argentina – gfnyargentina.com
April 10, 2016 – CRM GFNY Colombia – gfnycolombia.com
About Gran Fondo New York
The 5th annual Campagnolo Gran Fondo New York on May 17, 2015 was the first GFNY Championship. The race features the world's most international peloton with riders from over 70 countries and 48 US states. Athletes will take on a challenging 100-mile route from NYC to Bear Mountain and back to compete against each other, the clock and themselves in a personal endurance challenge.
The 50-mile GFNY BEAR on the same day is a non-competitive ride from NYC to Bear Mountain.
GFNY WORLD now features events in Italy, Mexico, Puerto Rico, Colombia, Spain, France and Argentina. Campagnolo Gran Fondo New York raises funds for Operation Smile, the international children's medical charity.
The official Gran Fondo New York website is: gfny.cc.
Further Material for your use
2015 Race Video: here
2015 Race Pictures (credit: sportograf.com): here