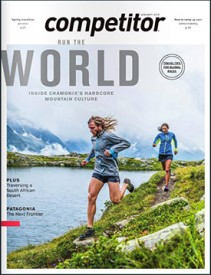 Special March Issue Offers Runners Ultimate Guide and Reviews of Shoes, Apparel and Wearable Tech Products
SAN DIEGO (January 15, 2014) –Competitor Magazine, America's #1 Running Resource, today announced the first ever definitive Gear Guide for runners, hitting stands March 1, 2015. The special issue serves as an all-inclusive guide encompassing a perfect blend of gear and equipment, including detailed reviews on nearly 300 products for runners.
"The New Year means three things: resolutions, racing and new gear," said Brian Metzler, editor-in-chief of Competitor. "While our January and February issues have racing covered, the March Gear Guide has runners covered on the latter, with hundreds of product reviews from compression socks to smart watches, and everything in between."
Carefully crafted by the experts at Competitor with help from a multitude of experienced gear testers, the Gear Guide helps readers find the best in 2015 running technology and innovation based on objective, honest reviews. The March issue will feature a collection of original photography and offers specific expert insight into each product from cover-to-cover.
"Running gear continues to evolve and new materials, new designs and new manufacturing techniques are playing a bigger role than ever," added Metzler. "In addition to providing runners of all abilities with in-depth reviews and commentary, this first ever Gear Guide is a one-stop resource for runners vying to improve their efficiency, performance and style."
Subscribe to the free monthly digital edition of Competitor magazine at competitor.com/digital.  To experience Competitor running community online, please visit Competitor.comor facebook.com/competitor.running and follow @RunCompetitor on Twitter.
About Competitor
America's #1 Running Resource, Competitor is a leading national running magazine published monthly by parent company Competitor Group, Inc. (CGI). Competitor empowers runners around the world, with best in class journalism and photography, to become leaders through their adventurous lifestyle and courageous spirit.
Headquartered in San Diego, Calif., CGI is the leading global media and event entertainment company dedicated to promoting the active lifestyle. In addition to publishing Competitor and several other media brands, CGI owns and operates events around the world, including the Rock 'n' Roll Marathon Series, TriRock Triathlon Series and Women's Running Series. Further information about Competitor can be found at CompetitorMediaKit.com.
# # #