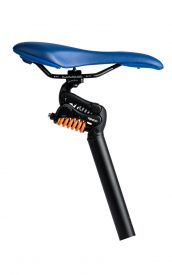 BELLINGHAM, WA — May 2019. Cirrus Cycles believes in creating a comfortable, controllable ride for everyone, and we're proud to expand our line of active suspension seatposts with the KINEKT XL2 posts. 
Now riders up to 320 pounds can enjoy a smoother, more comfortable bike ride also.
As with all other KINEKT products, the KINEKT XL2 seatposts uses our patented Active Suspension Technology to deliver a smoother, more comfortable ride, no matter the road surface. The posts are a great addition to most road bikes, e-bikes, gravel and cyclocross bikes and even tandems.
Unlike any other seatpost on the market, the KINEKT provides neat 100 percent friction-free vertical travel, and easy adjustable tuning to suit every rider's individual needs. 
The KINEKT smoothens the ride thanks to Active Suspension
Using two springs, KINEKT seatposts are designed to move vertically, not horizontally, keeping the saddle in place. The 35mm of friction-free vertical travel let's the rider moves comfortable over rough terrain, eliminating bumps and vibrations, noticeably reducing back pain and muscle fatigue. 
Infinite customization
Interchangeable springs and easy ride adjustments allows the rider to tune the suspension to their needs, and can be made on the fly to accommodate changing terrain.
KINEKT XL2 features include: 
Interchangeable springs
Adjustable bolt
Available in 27.2mm, 30.9mm, 31.6mm diameter
Available in Short (350mm) or Long (420mm)
Rider weight accommodation between 240lbs and 320lbs
The KINEKT 2.1 XL is available in aluminum and weighs between 629g and 721g, depedning on the length and diameter of the post.
Posts are available in shops nationwide and for sale online, starting at $279.
About Thorpe Marketing:
Located in Boulder, CO, Thorpe Marketing was born of the necessity for the marketing industry to evolve from a traditional "one size (one set of services) fits all" model. We're a different kind of agency: completely service agnostic and completely focused on meeting our clients' needs. We offer a variety of services to help brands directly engage with the right audience in a meaningful way.
Marketing at its Best: Relentless, Authentic, Efficient.