Colnago and L'Eroica Partner for the Next Three Years
March 1, 2022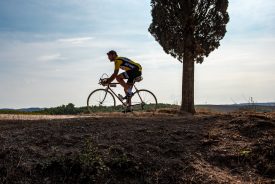 The two brands signed an important partnership announcing the company founded by Ernesto Colnago as the protagonist in the Eroica events in Italy and around the world for the 2022, 2023 and 2024 seasons
Cambiago, Italy, March 1st 2022 /ENDURANCE SPORTSWIRE/ – It was destiny that Colnago and L'Eroica become partners. Both represent the deep and extraordinary passion for cycling, a sport that is increasingly widespread in every corner of the world. Both brands generate unique feelings and represent the success of  'Made in Italy'. Both bear the values ​​and sentiments of experiencing the beauty of our sport that's ancient yet never old, and is always capable of arousing very strong emotions.
From this year, therefore, Colnago alongside L'Eroica – and its daughter events all around the world – will communicate together the best passions experienced on the bicycle. Among those events, in the 40th anniversary of the Goodwood Road Cycling World Championships is the Eroica Britannia at the iconic English location where Giuseppe Saronni famously won riding a Colnago in 1982.
Alessandro Brambilla Colnago, Colnago Brand Manager, said: "Colnago is the history of top-level cycling, the epitome of when heroes ride. The greatest pedal champions of yesterday and today took their turns riding the Italian bicycle. The Eroica is, for our brand, a natural choice, like drinking water from a bottle."
Giancarlo Brocci, Eroica Founder,  "Colnago was destined to meet L'Eroica," said Giancarlo Brocci, creator of the event loved all over the world. "Besides being the inspirational bike builder and the entrepreneur, Ernesto was everything in this world: cyclist, mechanic, assistant, fan, sports director, friend of champions, adviser. He has combined genius with his lifetime passion: we couldn't not find each other".
This year Colnago will be part of:
| | | | |
| --- | --- | --- | --- |
| 29 April | Nova Eroica California | Cambria – California | USA |
| 1 May | Eroica California | Cambria – California | USA |
| 7 May | Nova Eroica South Africa | Montagu – Cape Winelands | SOUTH AFRICA |
| 7 May | Eroica South Africa | Montagu – Cape Winelands | SOUTH AFRICA |
| 22 May | Eroica Japan | Kitakaruizawa | JAPAN |
| 29 May | Eroica Montalcino | Montalcino (SI) | ITALY |
| 5 June | Eroica Hispania | Haro – La Rioja | SPAIN |
| 18 June | Nova Eroica Switzerland | Sion – Valais | SWITZERLAND |
| 2 July | Eroica Limburg | Valkenburg – Limburg | THE NETHERLANDS |
| 6-7 August | Eroica Britannia | Goodwood | GREAT BRITAIN |
| 27 August | Eroica Germania | Eltville – Rheingau | GERMANY |
| 3 September | Eroica Dolomiti | San Candido (BZ) | ITALY |
| 1-2 October | L'Eroica | Gaiole in Chianti (SI) | ITALY |
Colnago Ernesto & C. S.r.l., known as Colnago, is a manufacturer of high-end road-racing bicycles founded by Ernesto Colnago near Milano in Cambiago, Italy, in 1954. The company first became known for high quality steel framed bicycles suitable for the demanding environment of professional racing, and later as one of the more creative cycling manufacturers responsible for innovations in design and experimentation with new and diverse materials including carbon fibre, now a mainstay of modern bicycle construction. Among the many Colnago victories – 18 Olympic Gold Medals, 63 World Championships, 23 Grand Tours, 40 Classic Monuments – Tadej Pogačar won both the 2020 and 2021 editions of the Tour de France riding Colnago bicycles.
L'Eroica is a cycling event, born in 1997 in Gaiole in Chianti (SI) from an idea of ​​Giancarlo Brocci. It re-proposes the "beauty of fatigue and the taste for adventure" of the heroic cyclists of the last century on routes identified mostly on dirt roads with bicycles and period clothing. It is always held on the first Sunday in October. Over the years Eroica events have been born in Japan, Great Britain, South Africa, United States, Holland, Germany, Spain, Switzerland. The NOVA format was developed to reflect the recent growth in passion for gravel riding.