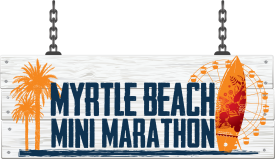 Will participate along with Ainsley's Angels in the 9th Annual Race
MIAMI, FL – Continental Event & Sports Management Group, LLC (CESM), producers of the Myrtle Beach Mini Marathon Weekend, announced Colleen Kelly Alexander will be participating in this year's 5K and half marathon.
Alexander is a motivational speaker, inspiring positive change and sharing her story of survival. In October 2011, Alexander was cycling home from work and was run over by a multi-ton freightliner. She flatlined within minutes of arriving at Yale Trauma Center and spent five weeks in a coma. She received over 70 blood transfusions and has required over 20 surgeries to date. Alexander has defied the odds and has since run more than 50 races and completed 40 triathlons. She's now a spokesperson for the Red Cross and will be doing a local book signing during the Myrtle Beach Mini Marathon Weekend to promote her book, Gratitude in Motion.
Alexander will be partnering with the South Carolina chapter of Ainsley's Angels. Ainsley's Angels of America is a national, volunteer-based non-profit 501(c)(3), aiming to bring awareness to America's special needs community through inclusion in all aspects of life. This is mainly through involvement in endurance events in which they currently have ambassadorships in 32 states, DC and 59 cities.
Alexander will run alongside Michael Warner, who was paralyzed years ago in a car accident and whom, up until now, never regained his ability to run. He, along with his wife, Shelly, lead the local South Carolina chapter of Ainsley's Angels. Warner will participate in the Coastal 5K, which will be his first race since his accident.
"We all have the incredible strength and power to change ourselves. And the world," said Alexander "We are all fighters, athletes and advocates. We all have the ability to affect positive change. To make a difference. All of us. We only need to find our inspiration. And after we find it? It is time to act. And never stop."
Warner stated, "Our purpose is not often discovered until we recognize the blessings revealed through adversity. Our purpose then becomes our mission and helps us to become a blessing to others."
The Myrtle Beach Mini Marathon Weekend is scheduled for Saturday, October 20 and Sunday, October 21. Saturday will feature the Coastal 5K and Doggie Dash at The Market Common. Net proceeds from the Doggie Dash benefit the Grand Strand Humane Society. The Myrtle Beach Mini Marathon (13.1 miles) will take place on Sunday, October 21, beginning at the Coastal Grand Mall. Race weekend will kick off with the Health & Fitness Expo on Friday, October 19 at Crabtree Memorial Gymnasium and will continue through Saturday, October 20.
The Myrtle Beach Mini is known for its flat, and fast, course and its large, surfboard-shaped medals complete with magnet and bottle opener. Registration is still available. For more information, or to register, please visit www.runmyrtlebeach.com.
###
About Continental Event and Sports Management Group, LLC:
With world-class running events such as the Divas® Running Series and the Myrtle Beach Mini Marathon, Continental Event and Sports Management Group, LLC is one of the premiere sports management companies in the United States. Robert and Gaby Pozo, founders and managers of Continental, have over 18 years of experience in the race production industry providing unparalleled events to participants and their host communities.
Contact:
Robert Pozo, President & CEO
Continental Event & Sports Management Group LLC
rpozo@usruns.com
www.continentalroadracing.com