Coaches of Color Initiative Opens Application for 2nd Apprenticeship
November 1, 2022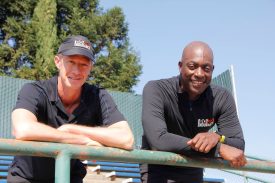 Program Aims to Improve Diversity in Endurance Sports
Lehi, UT /ENDURANCE SPORTSWIRE/ – The 80/20 Endurance Foundation today announced the opening of a new application window for the Coaches of Color Initiative, a program that awards apprenticeship grants to people of color who aspire to careers as endurance coaches. The next grant will be awarded through a selection process hosted on the 80/20 Endurance Foundation website (www.8020foundation.org), where candidates will complete a brief application and submit a personal statement in either written or video format. The application window will remain open throughout the month of November, and a recipient will be named soon thereafter. The apprenticeship itself will last for nine months beginning January 1, 2023.
Created last year, the Coaches of Color Initiative granted its first apprenticeship to Jessica Schnier, 25, of Spring Valley, California. In addition to a monthly stipend of $1,000, Schnier has enjoyed a comprehensive apprenticeship conducted under the auspices of 80/20 Endurance, a private corporation that provides online training resources to endurance athletes and is affiliated with the 80/20 Endurance Foundation. Elements of the program include free training and certification as an 80/20 Endurance Coach, one-on-one mentoring sessions with established coaches, and opportunities to create training content and gain valuable coaching experience through the 80/20 Endurance platform.
"I can honestly say that the Coaches of Color Initiative has changed my life," says Schnier, whose apprenticeship ends December 31st. "When I applied for it, I was a recent college graduate thinking about maybe becoming a professional coach someday. Now I'm a certified, full-time running coach with a full client roster and a lot of confidence."
Schnier continues, "For me, the best part of the experience is just that—the experience. I've gotten to shadow successful coaches and other endurance professionals as they do their jobs, travel to running camps in different places, become part of a community of great people who share my passion and values, and so much more."
The Coaches of Color Initiative receives the majority of its funding from 80/20 Endurance, which donates a percentage of its monthly revenues to the program. Additional funding comes from corporate sponsors including TrainingPeaks, an online training platform for coaches and athletes, which recently made a substantial donation to COCI. "At TrainingPeaks, we believe in the power of the human coach," says President Lee Gerakos. "We also believe that sport should reflect the world in which we live. We're proud to partner with the Coaches of Color Initiative in our commitment to bring the opportunity of endurance coaching to everyone."
To learn more about the Coaches of Color Initiative, or to make a tax-deducible donation or apply for an apprenticeship grant, visit www.8020foundation.org.