Clark Family Bids Farewell To All3Sports
April 18, 2016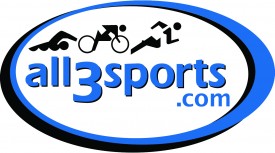 Atlanta, Georgia – Morgan Clark Schnur, president of award-winning Atlanta-based triathlon retailer all3sports since 2008, today announced a transfer of ownership and a warm welcome to all3sports' new proprietor, Atlanta triathlete and entrepreneur Matt Cole.
"On behalf of my entire family, I want to extend a heartfelt thank you to the loyal, passionate customers who have contributed to the success of all3sports and helped create a true community around our brand," says Schnur. "Over the years, everyone who has walked through the doors of our Atlanta location or gotten to know us at all3sports.com has become a part of our extended family. We've had the opportunity to support so many incredible athletes ­– from weekend warriors to world champion professionals – and we've been honored to share in each of your triathlon journeys."
Schnur is thrilled to turn the reins at all3sports over to Cole, a well-known member of the Atlanta endurance sports community. Cole will operate the business concurrently with Podium Multisport, the retail operation he founded after serving as a long-time manager at all3sports.
"Matt is the perfect person to take over at all3," says Schnur. "He knows the retail environment inside and out and is deeply dedicated to the sport of triathlon. In many ways it's difficult to leave the business that I've poured my heart into, but with Matt stepping in, I know all3 will continue to thrive."
While sentimental about bidding adieu to the business that has anchored her involvement in triathlon over the past several years, Schnur and husband Sean, who joined the all3sports' executive team after the two met in 2012, are excited for the next steps in their professional and personal lives. Their plans include ongoing involvement with Morgan's family business, C. C. Clark, Inc., as well as more free time devoted to their beloved 18-month-old son, Sebi.
The couple will also remain connected to the sport, as both are avid triathletes and intend to train, race and cheer whenever possible. "We'll always be involved in triathlon in some way," says Schnur. "We love the sport too much to stay away. So it's not really goodbye, but rather, see you at the races!"
About all3sports
Founded in April 2002, all3sports opened its retail doors as both an internet-based ecommerce retail business and a destination retail store in Atlanta, Georgia. In 2008, Morgan Clark bought all3sports from its founder, becoming the first female president to own and operate a triathlon store in the country. In April 2016, ownership of all3sports again changed hands, with former staff member Matt Cole taking over the ever-growing business. Cole oversees a passionate staff, possessing extensive triathlon product knowledge as well as substantial user expertise, since many are triathletes in their own right. With its foundation of highly-qualified employees and superior product selection, and fueled by a community of devoted customers, all3sports has become one of the largest triathlon stores in the industry, repeatedly recognized as a Top 10 Triathlon Retailer by Triathlon Business International. For more information please visit www.all3sports.com.
Media contact:
Matt Cole
###