Chilean riders Alejandro Morales and Aranza Villalón crowned champions of GFNY Chile
November 28, 2018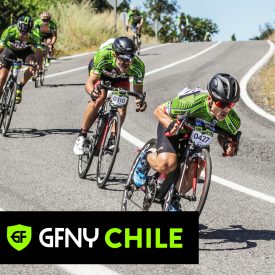 800 riders compete at GFNY Chile on a day of dominance for Chilean cycling
NEW YORK CITY, Nov 28, 2018 – 800 riders representing 15 countries, many from Central and South America took part in the second edition of GFNY Chile. Starting and finishing at the renowned Casona Viña Veramonte winery, GFNY Chile riders enjoyed ideal spring temperatures, took in beautiful vineyard landscapes along the race route and at the finish, celebrated the day with fantastic Veramonte wine.
The race course took riders along challenging terrain that highlighted the unique characteristics of Chile. Riders of the 140km long route took on the now infamous Gran Tunquen climb, with the maximum incline topping out at 25%.
Last year, Chilean rider Alejandro Morales missed out on the podium. This year, Morales went all out and edged out Luis Felipe Alessandrini for the win by one second to take home the title in 03:28:31. Rounding out the podium for a complete Chilean 1,2,3 was Nicanor Walker in a time of 03:33:09.
"This terrain is very hard, and the level of competitors very equal. The rider who holds his ground is the one who wins, and luckily this year was my year," said Morales.
There was further dominance in the ladies' race with Chile taking all three podium spots. Racing in her first GFNY Chile, Aranza Villalón crossed the line in 03:40:03. "The stage was very hard, but together with my teammates we took a slight advantage over the tough Tunquén section. I am super happy with today and looking forward to 2019," said Villalón.
Rounding out the podium with a photo finish, Paola Munoz just edged out Constanza Paredes in a time of 03:48:54.
"It was a tremendous challenge to organize such a large and complex event, but we are very happy with the outcome. It was a great day and we are looking forward to be even bigger on November 24, 2019," said producer of the event, José Tomás Larraín.
About GFNY
GFNY is the global cycling marathon brand with events held in NYC, Bali-Indonesia, Brazil, Chile, Colombia, Costa Rica, Santa Fe-USA, Germany, República Dominicana, Indonesia, Italy, Jerusalem-Israel, Cozumel-Mexico, Monterrey-Mexico, Panama, Philippines, Portugal and Uruguay.
Riders get to BE A PRO FOR A DAY by competing against others, themselves and the clock in a personal endurance challenge.
At all GFNY events, riders have the chance to qualify for the elite racer corral at the GFNY World Championship in NYC by placing in the top 10% (20% at regional championships) of their age group.
Campagnolo GFNY World Championship NYC
The 9th annual Campagnolo GFNY World Championship New York will be held on May 19, 2019. The race features the world's most international peloton with riders from over 90 countries. Athletes take on a challenging 100-mile route from NYC to Bear Mountain to Fort Lee to compete against each other, the clock and themselves in a personal endurance challenge.
The official GFNY website is: www.gfny.com.
GFNY World 2019 calendar
27 January GFNY PHILIPPINES
25 February GFNY BALI
17 March GFNY MONTERREY
17 March GFNY URUGUAY
24 March GFNY LATIN AMERICA CHAMPIONSHIP COLOMBIA
31 March GFNY ITALIA MONTEPULCIANO
7 April GFNY REPUBLICA DOMINICANA
3 May GFNY MIDDLE EAST – AFRICA CHAMPIONSHIP JERUSALEM
19 May GFNY WORLD CHAMPIONSHIP NYC
23 June GFNY SANTA FE
7 July GFNY COSTA RICA
4 August GFNY BRASIL
18 August GFNY DEUTSCHLAND 
25 August GFNY INDONESIA
8 September GFNY EUROPE CHAMPIONSHIP PORTUGAL
20 October GFNY PANAMA
10 November GFNY COZUMEL-MEXICO 
24 November GFNY CHILE
Further Material for Media Use
GFNY World calendar graphic: here
Previous GFNY press releases: here
GFNY Chile video: here
GFNY Chile photos: here
Media Contact
Gran Fondo New York Inc.
Uli Fluhme
Phone: +1.212.933.4033
Email address: uli@gfny.com