Chattanooga Youth to Receive Swim Scholarships as Part of 2017 IRONMAN 70.3 World Championship
August 18, 2017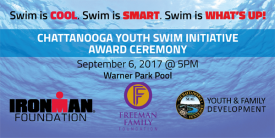 The IRONMAN Foundation and Freeman Family Foundation to give free swim lessons and swim team sponsorship in partnership with Chattanooga Youth & Family Development
CHATTANOOGA, Tenn./TAMPA, Fla. – The IRONMAN Foundation® in partnership with the Freeman Family Foundation and Chattanooga Youth & Family Development will offer scholarships for free swim lessons and swim team membership in conjunction with the 2017 IRONMAN® 70.3® World Championship triathlon taking place in Chattanooga, Tennessee on September 9 and 10. Registration for free swim lessons and therapeutic recreation for swimmers ages three and above will take place on Saturday, August 19 from 10:30 a.m. to 12:00 p.m. at Warner Park Pool.
"My wife Gloria and I believe that this program is a great way for young people to learn how to swim," said Darrell S. Freeman, Sr., Chairman of the Freeman Family Foundation, a Chattanooga native and IRONMAN Foundation athlete. "I grew up swimming at Carver Center and Warner Park. Both places served as safe havens for me during my developmental years. To be able to partner with the IRONMAN Foundation to teach children how to swim brings my life full circle and shows that 'Anything is Possible.'"
To commemorate the initiative, a special awards ceremony is planned for the participants on Wednesday, September 6, as part of race week at the IRONMAN 70.3 World Championship. Children will have the opportunity to meet and swim with IRONMAN athletes and receive medals for their participation in the program.
"It is important for our youth to learn basic swimming techniques so they can feel safe in the water," said Chattanooga Mayor Andy Berke. "We want this experience to be fun and engaging but most of all we want them to learn a skill they can use for life and possibly save a life."
In addition to free swim lessons, youth swimmers who wish to apply for scholarships to compete on their local swim teams, including the local Special Olympics Team, the Penguins, may contact Peggy Grall, Aquatic Coordinator for the City of Chattanooga for more information at [email protected].
"We are truly honored to partner with the Freeman Family Foundation and Chattanooga Youth & Family Development to provide this opportunity to the youth of Chattanooga," said Sarah Hartmann, Community Relations Manager for The IRONMAN Foundation. "Learning to swim is a life-changing event and it's our goal to inspire a new generation to become lifelong athletes."
The IRONMAN Foundation Community Fund provides community and volunteerism grant opportunities to non-profit organizations where IRONMAN events are held. In 2017, The IRONMAN Foundation will distribute more than $126,000 to Chattanooga organizations and $1.5 million in grant funding to support the needs of IRONMAN race communities across North America.
For more information on IRONMAN and The IRONMAN Foundation, please visit www.ironman.com and www.ironmanfoundation.org. For media related inquiries, please contact [email protected].
###
About The IRONMAN Foundation
The IRONMAN Foundation® creates positive, tangible change in IRONMAN race communities by engaging athletes and volunteers to participate in programs that demonstrate service through sport and commitment to community. Since 2003, over $50,000,000 has been provided through IRONMAN Foundation programs to more than 6,300 local, regional, national and global nonprofit initiatives. Through these partnerships, IRONMAN athletes are powerfully linked to the community and together we leave the IRONMAN legacy behind in our race communities long after event day. For more information on IRONMAN Foundation programs, including Team IMF, Community Fund, Your Journey Your Cause, and Women For Tri, visit www.ironmanfoundation.org.
About IRONMAN
A Wanda Sports Holdings company, IRONMAN operates a global portfolio of events that includes the IRONMAN® Triathlon Series, the IRONMAN® 70.3® Triathlon Series, 5150™ Triathlon Series, the Rock n' Roll Marathon Series®, Iron Girl®, IRONKIDS®, International Triathlon Union World Triathlon Series races, road cycling events including the UCI Velothon Majors Series, mountain bike races including the Absa Cape Epic, premier marathons including the Standard Chartered Singapore Marathon and other multisport races. IRONMAN's events, together with all other Wanda Sports Holdings events, provide more than a million participants annually the benefits of endurance sports through the company's vast offerings. The iconic IRONMAN ® Series of events is the largest participation sports platform in the world. Since the inception of the IRONMAN® brand in 1978, athletes have proven that ANYTHING IS POSSIBLE® by crossing finish lines at the world's most challenging endurance races. Beginning as a single race, IRONMAN has grown to become a global sensation with more than 200 events across 50 countries. For more information, visit www.ironman.com.
About Wanda Sports Holdings
Wanda Sports Holdings is the world's leading sports business entity, founded to capture the opportunities in the global sports industry and to contribute to the prosperous international sports landscape – in three key areas: 1) Spectator Sports (media & marketing business), 2) Participation Sports (active lifestyle business), 3) Services (digital, production and service business). Wanda Sports Holding incorporates the international sports marketing company Infront Sports & Media, the iconic endurance brand IRONMAN, and Wanda Sports China. The headquarters are in Guangzhou, China.
About the Freeman Family Foundation
The Freeman Foundation was established by Tennessee natives Gloria and Darrell S. Freeman, Sr. to help those that are less fortunate among us. We help provide educational opportunities to young people both in and outside of the classroom. Founder and executive chairman of information technology and solutions firm Zycron Inc, Mr. Freeman is a past chairman of the Nashville Area Chamber of Commerce, is a member of the Nashville Entrepreneur Center's Hall of Fame, serves or has served on the board of Nashville Technology Council, the Tennessee Board of Regents, the Metro/Nashville Broadband Task Force, Nashville Community Foundation, the Federal Reserve Advisory Board, the African American Museum of Music Art and Culture and the Middle Tennessee State University Board of Trustees, among other roles.
About Chattanooga Youth and Family Development
The Department of Youth and Family Development's top priority is providing a better quality of life for the citizens of Chattanooga, through education, recreation, social services, leadership and career development. Chattanooga YFD offers a large variety of programs, activities, classes, and opportunities for youth, adults and seniors at numerous locations all across Chattanooga.  The mission of YFD is to provide educational, recreational, career development, leadership, and social service opportunities to create smarter students and stronger families. For more information visit: www.Chattanooga.gov/YouthandFamily or www.Facebook.com/chattanoogayouthandfamily