Chasing Watts in Partnership with Trek presents the Ride to Prevent Suicide benefiting the American Foundation for Suicide Prevention
August 31, 2023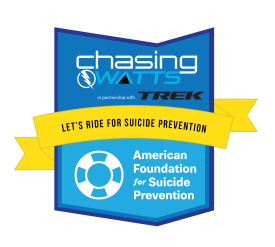 /ENDURANCE SPORTSWIRE/ – September 10th – September 16th, 2023, is suicide prevention week. To raise awareness and money, Chasing Watts in partnership with Trek is hosting a ride from their new Sugarland Texas location, stopping at the West University store in Houston and returning to Sugarland for post-ride food and drinks.
The ride will feature 3 available routes with distances of 12, 35, and 65 miles to offer options for many levels of participants. The ride is free to participants. We ask that you donate to the AFSP. The donation link is in the ride details at chasingwatts.com or in the App.
Chasing Watts is an essential tool for creating connected, engaged, and vibrant cycling communities. Engaged communities can be a powerful force for good.
"Cycling is a social, community-based activity. There is no better way to check on the mental state of friends and loved ones than on a bicycle." – Chasing Watts co-founder
If you are a vendor or company that would like to support the ride or simply have questions, send us a note at hello@chasingwatts.com
Chasing Watts is free to use, allowing riders to find, join, create, and manage group rides anywhere in the world. The latest version of the mobile app (3.1.15) is available on Apple's AppStore and Google Play or online at ChasingWatts.com.
Additional Resources:
Additional images and details here: https://chasingwatts.com/press
For quotes or interview opportunities, please contact scott@chasingwatts.com