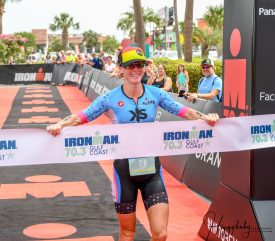 XRCEL Athlete Carrie Lester Wins Season Opener by 10:31 minute Margin.
Charleston, SC – XRCEL Athlete Fuel  congratulates its ambassador and KIS Performance Team coach Carrie Lester on her 2019 season opening win of IronMan Gulf Coast 70.3. Carrie opened her season with a blistering win on the hot and humid Gulf Coast course.
"Carrie is amazing! We have fueled her for years and she just keeps delivering absolutely great results", said Fred Sexton President and Founder of New World Consumer Products. "The way she trains, works with her coach, improves her equipment and dials in her nutrition strategy to finds ways to improve her performance is simply impressive. With this result for her first race of the 2019 season I think the triathlon community is going to see her put up great performances all season long."
" I'm very happy to have been able to win my season opening race at 70.3 Gulf Coast. I knew it was going to be a hot, humid race and coming from the West coast being able to handle the conditions was going to be the biggest issue." said Lester. "Pushing yourself in hot conditions can often lead to GI distress and ruin your performance, but knowing how well XRCEL is absorbed and used by the gut in these conditions gave me the confidence that my nutrition needs were covered. Coming off the bike I didn't feel great, but quickly took 2 XRCEL and within 15 mins felt the best I had all day and found my run legs. No GI issues, and no post-race soreness, thanks XRCEL for your support!"
"It took Carrie 2 months of active rest to recover from last season. But the past 2 months have been near perfect so I'm not surprised to see her take the win." Said KIS Coaching's Scott DeFilippis, Carrie's coach. "She is right on target for next month's Ironman France where she will attempt to qualify for the Ironman World Championships. Saturday's race was held in some pretty extreme conditions with heat and humidity. The use of XRCEL's responsive delivery mechanism certainly helped her finish strong!"
"While most athletes use early season races to ease back into racing and 'shake out the cobwebs' after Winter training, Carrie Lester nails her season opener and takes the pro title at IRONMAN 70.3 Gulf Coast with a 4:15:57 finish time and 10:31 margin of victory over 2nd place." said Laura DeMeo, Business Development Manager – Endurance Sports for Team XRCEL.  "This is another stellar win for our ambassador after an incredible 2018 season where she won Embrunman, Ventouxman and placed 2nd at Ironman France as well as Ironman 70.3 Los Cabos and Ironman Arizona. XRCEL's longer lasting and "fuel on demand" smart technology combined with Carrie's talent, strength and experience are the right ingredients for continued success.   We're proud to have partnered with Carrie and fueled her over the past 4 years."
###
About XRCEL® Athlete Fuel
XRCEL Athlete Fuel is a revolutionary extended release carbohydrate supplement formulated with patented pH and temperature responsive micro-gel technology developed by New World Pharmaceuticals, LLC.  XRCEL is a caffeine and banned substance free supplement designed to provide athletes with extended release muscle and brain fuel so that they may get the most out of their training and competitions. 
New World Pharmaceuticals is based in Charleston, South Carolina. For more information, please visit http://www.NewWorldPharma.com.
For More Information 
Media Inquiries:
Lisa Sexton
843.737.6192 Ext 104
Lisa@XRCEL.com