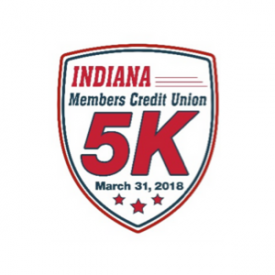 Credit union is new title sponsor of the Carmel 5K
CARMEL, Ind. (February 13, 2018) – Carmel Road Racing Group, the management group of Carmel's largest running event, announced Indiana Members Credit Union (IMCU) as the new title sponsor of the Carmel Marathon Weekend 5K. The 5K event distance has grown into a community favorite by offering participants of all ages and abilities the opportunity to enjoy the race weekend experience. The event distance will now be recognized as the Indiana Members Credit Union 5K.
"IMCU is proud to partner with the Carmel Road Racing Group and serve as the title sponsor of the Carmel Marathon Weekend 5K," said Ron Collier, president and CEO of IMCU. "As a local organization, founded on the campus of IUPUI over 60 years ago, community involvement is something IMCU prides itself on and goes hand-in-hand with our credit union philosophy of 'People Helping People.' This partnership is a great fit and provides us the opportunity to support our community and members who are pursuing their goals, while promoting health and wellness. In addition, our Carmel location will serve as a pre and post-event meeting location for race volunteers, event staff and even medical personnel. This is another way we proudly serve our community."
"We are excited to have Indiana Members Credit Union as a new partner for the 2018 Carmel Marathon," said Todd Oliver, race director and president of Carmel Road Racing Group. "We added the 5K in 2016 so more people of various skill levels could enjoy the event. Whether you are new to running, coming back from injury or walking with friends and family, the 5K allows everyone to experience the weekend. With their focus on community involvement, IMCU is a perfect partner for the 5K!"
The partnership with IMCU adds to the list of new additions for 2018. As announced last summer, the event moved its date forward three weeks making it one of the first major Midwest marathons in the spring. The new date, Saturday, March 31, has been well received as registrations for the marathon and half marathon are up more than 25 percent. The marathon and half marathon courses will also be new, designed for larger participant fields, better spectator cheer zones and lower traffic congestion.
To learn more and register for the Indiana Members Credit Union 5K, visit CarmelMarathon.com.
###
About Indiana Members Credit Union:
Indiana Members Credit Union, headquartered in Indianapolis, Indiana, was founded in 1956 on the campus of IUPUI. IMCU has since grown to 26 branches in Central Indiana, offering consumer and business members a better financial alternative and a full array of products and services. Traditionally offering better rates on loans and deposits, IMCU maintains true to its roots by "Keeping It Simple" for members. For more information, please visit IMCU online at www.imcu.com.