Campagnolo Gran Fondo New York introduces M-App
April 13, 2015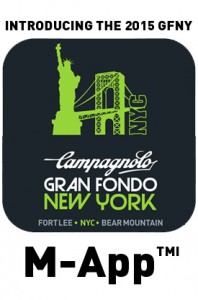 NEW YORK CITY, April 13, 2015 Gran Fondo New York Inc. introduces the M-AppTMI, an informational, analog tool for riders to navigate race weekend at the fifth annual Campagnolo Gran Fondo New York on May 17, 2015. M-AppTMI's main feature is its pre-installed content: the course map and time sheet are on one side of the jumbo folding M-AppTMI while climb profiles, gear recommendations and schedules are on the other side.
"M-AppTMI has been in the making for over three years," explains GFNY CEO Uli Fluhme. "We have been approached by many companies offering their smart phone app solutions. I have personally tried dozens of sports event apps and have found none of them particularly useful. Bring in M-AppTMI. It has everything digital apps always lacked: endless battery life, intuitive scrolling and unlimited sharing capabilities. But most importantly: M-AppTMI is fully functional even in areas without cell phone reception such as the wilderness that is Bear Mountain at the heart of our race course."
M-AppTMI fits easily in one of the five pockets of the official Campagnolo Gran Fondo New York jersey manufactured by Biemme. Riders won't ever have to take out M-AppTMI to navigate the course thanks to ample course signage and police controlled intersections. M-AppTMI will, however, be extremely useful for the athletes to discuss race strategies during the wait at the start on George Washington Bridge and to review the race with their teammates during the pasta party at the GFNY Finish Village.
Fully extended, M-AppTMI has a 27″ diameter in extremely high definition with a great touch and feel. M-AppTMI is based on wood which ensures a life that is expected to exceed any digital app currently on the market. All participants of the 2015 Campagnolo Gran Fondo New York receive the M-AppTMI for free exclusively at the NYC Bike Expo M-AppTMI Store on May 15 and 16 at Penn Pavilion in Midtown Manhattan (7th Avenue and 33rd Street).
About Gran Fondo New York
The 5th annual Campagnolo Gran Fondo New York on May 17, 2015 will be the first GFNY Championship. The race features the world's most international peloton with riders from over 70 countries and 48 US states. Athletes will take on a challenging 100-mile route from NYC to Bear Mountain and back to compete against each other, the clock and themselves in a personal endurance challenge.
The 50-mile GFNY BEAR on the same day is a non-competitive ride from NYC to Bear Mountain.
GFNY WORLD now features events in Italy, Mexico, Colombia, France and Argentina. Campagnolo Gran Fondo New York raises funds for Operation Smile, the international children's medical charity.
The official Gran Fondo New York website is:  gfny.cc.
Press Release Campagnolo Gran Fondo New York 2015: here