Call for Guests to Appear on New Endurance Sports Edition of Hilary Topper on Air Podcast
June 15, 2023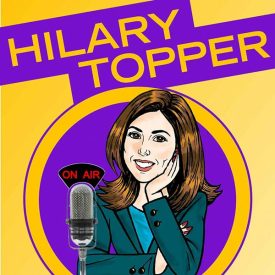 Wantagh, NY – June 15, 2023 /ENDURANCE SPORTSWIRE/ – Renowned author, blogger, podcaster, influencer, and digital marketer Hilary JM Topper is excited to invite guests to join the highly anticipated endurance sports edition of her popular podcast, Hilary Topper on Air. This new edition aims to provide valuable insights and tips to both beginner and advanced endurance sports enthusiasts, featuring interviews with industry experts and highlighting leading brands in the field.
As an experienced endurance athlete and influential figure on Instagram, Topper's passion for the sport is matched by her commitment to helping others achieve their athletic goals. The podcast will delve into a wide range of topics, including training techniques, nutrition, mental resilience, and race strategies, with the goal of assisting listeners in overcoming the challenges they may face in endurance sports and everyday life.
Topper is seeking engaging guests, including accomplished endurance athletes, coaches, nutritionists, and sports psychologists, who are willing to share their personal experiences and offer invaluable advice. This is a unique opportunity to reach a highly motivated and engaged audience and contribute to the growth of the endurance sports community.
In addition to guest appearances, Topper welcomes individuals to share their own anecdotes and stories from their remarkable journeys as endurance athletes. Whether you have conquered a marathon, embarked on a challenging triathlon, or made a significant transformation in your fitness journey, your story can inspire and motivate others to push their limits.
To express your interest in being a guest on Hilary Topper on Air – the endurance sports edition, please contact show producer, Lisa Gordon, at lisa@hjmt.com.
Hilary Topper on Air – the endurance sports edition releases new episodes on a weekly basis and is accessible on popular podcast platforms such as Apple Podcasts, Spotify, and Google Podcasts. For further information regarding the podcast or guest opportunities, please visit Hilary Topper's website at www.hilarytopper.com/podcast.
Companies interested in sponsorship opportunities can reach out to Hilary Topper at hilary@hjmt.com or Lisa Gordon at lisa@hjmt.com.
###