Building a Volunteer Leadership Team for Race Events: Operational Essentials
July 25, 2018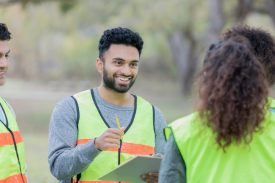 Good volunteers are an important part of any successful endurance event, whether they're helping with timing, crowd control, or any other essential element of the event. However, volunteers also require organization, direction, clear communication, and as a race director, you may not have time to do it all yourself. By building a volunteer leadership team, you can trust proper management of your event volunteers and logistics.
The Right Fit
Leadership isn't a quality that everyone possesses and matching the right people to the right positions within your volunteer team requires a lot of trust. Often leaders will rise to challenges or make themselves known, but sometimes you may have to encourage someone to step up who is more adept at leadership than they may realize. The qualities that good volunteer leaders have include:
Listening skills and empathy
Integrity and trustworthiness
Confidence and authority
Passion and ownership of the event
Self-drive and responsibility
Humility
Surprisingly, individuals who are popular amongst your volunteer team may not be ideal for leadership roles, as they may not be able to assert authority or provide direction. At the same time, an abrasive leader may drive volunteers away. Seek out leaders who are friendly without being pushovers; respected even if not overly social. You may ask for nominations from within your volunteer team or put certain roles up to a democratic vote to give your volunteers some buy-in regarding who is leading them.
A good way to gauge whether someone would be a good volunteer leader is to ask yourself if you would trust them to take charge in an emergency. This is a far more important aspect of leadership than likability or other soft skills, and while you hopefully will never have to put the emergency leadership skill to the test, you will know that you can trust your volunteer leader to perform as necessary for the good of the group.
Where Volunteer Leaders Work Best
Volunteers leaders are necessary throughout your endurance event, from planning to execution. On race day, you will need leadership throughout your event services and operations, especially at the start and finish line. Volunteer timers, safety personnel, registration, and individuals handing out water, snacks, or medals will all need quite a bit of organization. Make sure you have leaders who are willing and able to manage the following aspects of your endurance event:
Check-in/race bag distribution, including ID checks
Bag drop/lost and found
Starting line
Course safety
Water checks
Finish line
Each of these areas may need its own leader who can take responsibility for organizing other volunteers, answering questions that arise, and reporting back to your staff leadership as necessary. You also must be able to trust these leaders to make good decisions in any emergency situation that may arise, especially if they need to help participants in evacuation situations. It's imperative that your volunteer leadership be calm and confident during these unanticipated situations.
Adding Interns to Your Management Team
One of the best ways to provide a mutually-beneficial opportunity for an up-and-coming individual is by offering internships. These opportunities offer individuals the chance to see a side of race directing far beyond simply being a volunteer, while helping you accomplish more operational tasks.Some common essential job functions for an intern comprise:
Reporting safety/risk incidents to volunteer leaders/management staff
Assisting with public relations and social media marketing
Assisting with event setup and breakdown
Course marking and signage
Delivering/picking up equipment/supplies
Registration administration
Supporting volunteer staff
Greeting race participants
Assisting with planning, marketing, program development, and volunteer recruitment.
Interns can be instrumental in expediting operational efficiency and support for your team. In turn, they gain valuable work experience and an enhanced skillset.
Integrating Volunteer Leaders and Staff
While your volunteer leadership needs to be respected by the people they'll oversee, it's also important for your staff members to be able to work with them. A sense of ownership and a passion for the event are essential qualities for volunteers, but they need to know that staff have authority over them, especially in certain situations.
This is a two-way street. Staff members need to be mindful how they treat volunteers because that will reflect directly back on your event. If volunteers, especially leadership, do not feel appreciated, there's a good chance they won't be back to help. In fact, they may discourage other volunteers from participating as well. Every interaction with volunteers should be treated as a marketing touchpoint.
At the same time, staff members need to know how to assert their authority when necessary, even if they may risk offending a volunteer leader. You can avoid this situation by mapping out responsibilities clearly between staff members and volunteers so that everyone knows their place in the event's organization.
Establishing a Clear Line of Responsibility
For your volunteer leaders to be empowered to manage their teams, you should establish a clear line of responsibility for each leader. Make sure your org chart delineates who reports to whom and in what circumstances, especially with interpersonal relationships, issue management, and emergencies. Volunteers should know which leader they need to report to and how to do so. And in turn, leaders should know which member of your staff to report to, especially if it's not you (and in most cases, it probably shouldn't be).
The best way to ensure this is clear is to design an org chart that you can hand out to each member of the team. Include titles as well as a list of the team member responsibilities. If you can add photos of each person, that will help volunteers find the right person to report to. You should also include phone numbers or delineate who will have a walkie-talkie on the day of the event.
Building a volunteer leadership team will help ensure the success of your endurance event, especially with regards to safety and crisis communication. Good leadership will also help you make sure you have volunteers ready to work and return for the next event. With the right organization and empowerment, you'll have a volunteer leadership team that will help make your event smooth and successful. For more tips on securing the best volunteers for your next event, read more on the ACTIVE Endurance blog.