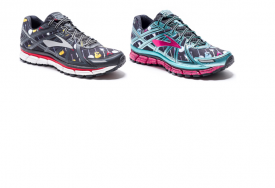 Celebrating the famed running event series
Seattle – November 11, 2016 – Building on a long-standing partnership, Brooks Running Company has teamed up with Competitor Group, Inc. to create a one-of-a-kind shoe that celebrates the Rock 'n' Roll Marathon Series and its twenty years running. The all-new Rock 'n' Roll Adrenaline GTS 17 has been reimagined with a custom print featuring the iconic guitar that is synonymous with the musically-themed races. The shoe will be unveiled at the Rock 'n' Roll Las Vegas expo on November 11th, 2016 and will be available for purchase January 2017.
"Since 2010, Brooks and Competitor Group have created memorable runner experiences across the country that inspire people to run and be active," said Matthew Weiss, Senior Manager of U.S. Marketing, Brooks Running Company. "The Rock 'n' Roll Adrenaline GTS 17 brings to life the joy of race-day and is the perfect way for runners to celebrate their accomplishment."
The Brooks Adrenaline GTS 17 delivers the perfect balance of support and soft cushion with a DNA midsole that dynamically adapts to every step and a Progressive diagonal Rollbar that guides the body into its natural alignment. The seventeenth edition is plusher than ever due to an updated V-Groove that folds deeper inward to absorb and disperse impact away from the foot. The shoe has also been updated to feature a nearly seamless design that provides a comfortable and secure fit. For the official Rock 'n' Roll Adrenaline GTS 17, the exterior of the shoe and sockliner have been wrapped in a bold guitar print that celebrates the origins of rock 'n' roll music, featuring a history of guitars including acoustic, hard rock and classic rock. The bold color pattern was inspired by band logos and the vibrant costumes worn by rock 'n' roll legends. On the heel of the shoe, Brooks and Competitor Group have printed the Rock 'n' Roll logo, making this the perfect shoe for runners to commemorate their race.
"This new shoe gives our runners the opportunity to embrace the Rock 'n' Roll spirit from the ground up," said John Smith, Senior Vice President of Sales for the Rock 'n' Roll Marathon Series. "We are excited to take this new step in our partnership with Brooks and look forward to debuting the shoe this weekend in Vegas."
The new Rock 'n' Roll Adrenaline GTS 17 is the latest in a series of memorable gear and experiences Brooks and Competitor Group have brought to race expos across the country. Other unforgettable experiences include the Brooks' Run Happy Island, a running-inspired, island tropic experience, and the Run Happy Cavalcade of Curiosities.
Following the preview at the Rock 'n' Roll Las Vegas expo, the men's and women's Rock 'n' Roll Adrenaline GTS 17 will be available to purchase at all Rock 'n' Roll Marathon Series events and online at www.BrooksRunning.com beginning January 2017 for $130. For updates about the shoe, sign up for free emails at http://www.brooksrunning.com/en_us/bronto-optin.
About Brooks Running Company
Brooks Running Company sells its performance footwear, apparel, sports bras and accessories in more than 50 countries worldwide. Brooks' purpose is to inspire everyone to run and be active by creating innovative gear designed to keep runners running longer, farther and faster. This purpose is supported by Brooks' Run Happy philosophy, a quest to celebrate and champion the sport of running and all runners everywhere. Founded 1914, Brooks is a subsidiary of Berkshire Hathaway Inc. and is headquartered in Seattle. Visit www.brooksrunning.com for more information or follow us on Twitter (@brooksrunning) and Facebook (www.Facebook.com/brooksrunning).
###