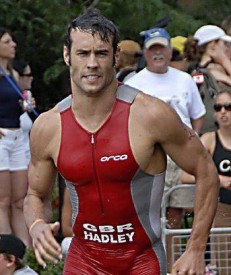 Hadley leaves no stone unturned when seeking competitive advantage for 2016 Race Season
Charleston, SC (March 18, 2016) – New World Consumer Products would like to announce its new partnership with Professional Triathlete James Hadley as an XRCEL Sponsored Athlete. James will be using and educating his fellow competitors about XRCEL Athlete Fuel, an extended-release sports performance fuel based on New World Pharmaceutical's patented formulation technology, for the duration of his 2016 race campaign.
"As all professional triathletes know, race day is all about showing off all the unseen hard work we've endured throughout months and months of meticulous training. Any advantage or help I can get through scientifically backed and proven nutritional supplements on a day to day basis leading into these events is of the up-most importance to me. Whether or not I'm training, or battling it out on race day, XRCEL delivers exactly what my body needs for me to perform at my absolute best. "Leave no stone unturned" is the saying – which is why I use XRCEL!" said Hadley.
James Hadley is a Professional triathlete and Performance endurance coach, and has represented Great Britain in the 70.3 World Championships multiple times. Growing up in England, Hadley competed in Swimming and Track and Field for the City of Bristol National Team and the South-West of England Team respectively. By the age of 16 he had already placed 2nd in the Junior British Triathlon Championship to add to his growing collection of awards and accolades.
After and extensive training and racing-centric childhood Hadley attended the University of Bath, racing for the prestigious TeamBath and eventually departing to race and train in Australia. It was here that James began training with Ironman World Champion and record holder Craig Alexander, under whom Hadley achieved podium finishes at the 70.3 Ironman Rev 3 as well as the 5150 and Challenge Triathlon events. He now races under the shrewd eye of World Champion Triathlete Julie Dibens and operates his coaching company Hadley Racing, LLC, a full-spectrum fitness and lifestyle training service.
"I am excited to add James to the dynamic group of athletes we currently have as XRCEL ambassadors," said Laura DeMeo, Business Development Manager-Endurance Sports for Team XRCEL. "James is not only a talented and experienced professional triathlete, but he also brings a wealth of swimming knowledge and coaching experience with him, which dates back to the many years of competing within the British national team system. His latest blog on the XRCEL website proves what invaluable knowledge he has when it comes to swim and triathlon training. James is as nice as they come and his charisma and drive has served as the main vehicle for his strong comeback last season after a knee injury and surgery in 2014. James has proven to be a force to be reckoned with once again in the half distance races and continues to consistently come out in the lead pack of the swim. We are proud to fuel him with our cutting edge extended release Athlete Fuel and look forward to his continued racing success in 2016."
###
About XRCEL® Athlete Fuel
XRCEL Athlete Fuel is a revolutionary extended release carbohydrate supplement formulated with patented pH and temperature responsive micro-gel technology developed by New World Pharmaceuticals, LLC.  XRCEL is a caffeine and banned substance free supplement designed to provide athletes with extended release muscle and brain fuel so that they may get the most out of their training and competitions. 
New World Pharmaceuticals is based in Charleston, South Carolina. For more information, please visit http://www.NewWorldPharma.com.
For More Information 
Media Inquiries:
Lisa Sexton
843.737.6192 Ext 104