BolderBOULDER Announces Sourcing of Compostable Aid Station Cups for 2015 Race
April 21, 2015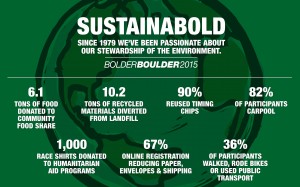 Addition of compostable cups is estimated to raise total race diversion rate by 25%
BOULDER, COLO. (April 21, 2015) – BolderBOULDER, America's All-Time Best 10K announced today that it would be sourcing compostable cups for the race's seven aid stations at the 2015 event. The BolderBOULDER distributes 427,500 aid station cups that service over 50,000 runners on Memorial Day. Making the switch from non-compostable to compostable cups will ensure the highest diversion rate in the history of the race.
"We are mindful of the fact that our race has an environmental impact on the community and want to do everything we can to reduce, reuse, recycle and conserve," said Cliff Bosley, race director. "We are very intentional about bundling shipments, promoting car-pooling, bus and bike transportation to the race and providing the resources to make sure we can divert the most amount of waste possible."
The BolderBOULDER teamed-up with their long-standing partner CU Recycling, as well as race sponsors Pepsi and Gatorade, to source a biodegradable wax lined cup that can be commercially composted.
"With strong support from the BolderBOULDER leadership and PepsiCo, it is exciting to bring back a compostable cup for the 2015 race.  With over 400,000 cups used during the event, there is potential to capture over 8,000 pounds of compostable materials and increase the event's diversion rate to 85% or more.  Improvements like this will help the BolderBOULDER reach a "Zero Waste" event goal of 90% diversion or more." said University of Colorado at Boulder Recycling Program Manager, Daniel Baril.
Conservation and recycling has always been a core value of the BolderBOULDER. In 2002 after noticing the high amount of waste from the post-race snack bag, the race started offering the reusable snack bag that is now a favorite keepsake of many BolderBOULDER runners. The BolderBOULDER also reuses timing tags, ask suppliers to reduce extra cardboard and plastic in shipments and donates all un-opened snack items to Community Foodshare.
"We are extremely pleased to anticipate such a high increase in diversion as a result of our efforts, especially for a race our size," said Bosley. "As the BolderBOULDER takes place in one of the greenest cities in America, we will continue to make improvements to our recycling and composting efforts and we thank our participants, volunteers, staff and partners for continuing to help our sustainability efforts each year."
### 
About BolderBOULDER
The BolderBOULDER, named America's All-Time Best 10K by Runner's World, is the 4th largest running race in the United States and the 7th largest in the world. The race attracts over 50,000 runners, joggers, walkers and wheelchair racers, and draws professional athletes from around the world to compete for one of the largest non-marathon prize purses in road racing. The 2015 race starts at 30th and Walnut and winds through Boulder neighborhoods with live music and entertainment at every corner. The race finishes at the University of Colorado's Folsom Field and attracts over 100,000 spectators. The 37th annual BolderBOULDER will be held on Memorial Day, May 25th, 2015. For more information please visit: www.bolderboulder.com