BOA Nutrition Announces New Board Members and Retail Expansion adding to Brand's Momentum
February 23, 2023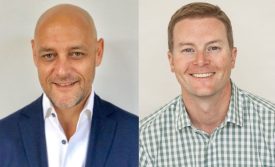 North Carolina-based Company Plans More Oral Aerosol Products in Sports and Lifestyle Categories
RALEIGH, N.C. (February 23, 2023) /ENDURANCE SPORTSWIRE/ – North Carolina-based sports supplement company BOA Nutrition continues to race forward with the announcement that its innovative oral aerosol products will soon be available in brick-and-mortar retail locations in addition to existing e-commerce channels. Since launching in 2021, BOA products have been sold primarily through the brand's website, boablast.com, through direct sales to collegiate and professional sports teams, and since 2022 on Amazon.
Retail distribution now includes IRONMAN stores at their North American events and at a select group of running, cycling, and triathlete stores across the country. The retail expansion follows a year of rapid growth for BOA in the endurance sports market while also gaining favor in traditional sports. Products currently available include the rapid hydration solution ENDURE BLAST, known as "competition-level sodium," and IGNITE BLAST, dubbed "the fastest sports fuel on the planet," which began shipping in late January. Both products feature BOA's patented OraBlastTM technology.
BOA's momentum is also highlighted by the recent appointments of Will Pleasants of Wasserman and Hein Pretorius, a global e-commerce pioneer and world-class age group triathlete, to the company's board.
Pleasants, who serves as Managing Director US, Wasserman, is an alumnus of UNC-Chapel Hill where he is a guest lecturer at UNC's Kenan-Flagler Business School and was influential in the development of the UNC Sports and Entertainment Summit. A 2014 Sports Business Journal "Forty Under 40" Award winner, Pleasants also serves on the boards of the Kenan-Flagler Business School Triangle Chapter and Teamworks, a leading athlete engagement software platform.
"As a seed investor in BOA, I have believed in the vision, product, and leadership team from the beginning," said Pleasants. "It has been great to see BOA utilized by the best athletes and teams over the past 18 months and I'm excited about the new products we're developing for different markets."
Pretorius, a native of South Africa, is an international consultant and strategist who has led business teams in e-commerce, retail and gaming in Africa, Asia, Europe, the U.S. and Latin America. An avid triathlete in his spare time, he participated in the 2019 IRONMAN World Championship in Nice, France, and the 2021 World Championship in St. George, Utah, and recently qualified for the 2023 World Championship in Finland.
"BOA is solving some of the most important problems faced by competitive athletes," said Pretorius. "The level of innovation in the products being developed has created a variety of market opportunities and I'm thrilled to join the mission."
BOA products have become highly popular in endurance sports through the company's partnership with USA Triathlon and IRONMAN North America, and through the endorsements of world-class triathletes Sam Long and Morgan Pearson along with two-time Olympian and Boston marathon champion Des Linden. BOA has also become a staple on the sidelines of many Division 1 college football and basketball programs, as well as teams in the NFL, NBA, NHL and MLS.
In January, BOA made news by announcing that veteran Final Four college basketball stars Armando Bacot of North Carolina and Jeremy Roach of Duke have teamed up with the company as part of separate NIL deals that include equity ownership positions. The two "blueblood" rivals star in the first brand marketing campaign to feature both North Carolina and Duke basketball players.
BOA founder Hank Durschlag developed the brand's ingestible aerosol model in collaboration with athletic training and sports nutrition experts at Duke. The ENDURE BLAST delivers the same amount of sodium in a two-second spray as a 12-ounce sports drink. The IGNITE BLAST provides energy-enhancing nutrients that athletes can micro-dose as needed, delivering B vitamins, caffeine, electrolytes and carbs in a two-second spray. The company is currently developing an "energy blast" and a "sleep blast" that it plans to roll out through convenience stores and e-commerce channels later this year. These new offerings are the first mainstream lifestyle products from BOA that will target consumers beyond the sports market.    
BOA Nutrition, Inc. is a sports nutrition and wellness company based in North Carolina. They develop unique products with novel ways to rapidly deliver essential nutrients so athletes of all ages and skill levels can optimize their performance. BOA's objective is to provide athletes with fast-acting, concentrated, great-tasting and convenient products to use no matter where, when, or what the sport. The company's technology, and many other innovations from BOA, are protected by 18 provisional patents and other proprietary trade secrets. BOA's ENDURE BLAST, the rapid sodium replenishment solution, is certified by the global NSF Certified for Sport® Program. To learn more about BOA Nutrition, BOA Endure, or the newly introduced energy fuel BOA Ignite, visit boablast.com and follow on Facebook, Instagram, LinkedIn and Twitter.
In photo:
Left: Hein Pretorius, a global e-commerce pioneer and world-class age group triathlete. Right: Will Pleasants, managing director, US at Wasserman.