BikeExchange Taps New US Head, Head of US Sales; Shuffle Other Key Positions
September 15, 2022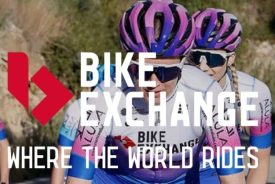 Cameron Simpson promoted to Head of North America; Garret Becker becomes Head of North American Sales
Asheville, North Carolina (September 15, 2022)/ENDURANCE SPORTSWIRE/ – Continuing to exceed expectations in growth and expansion in North America (NA), BikeExchange/Kitzuma Cycling Logistics – now operating under the same umbrella after merging last December – has added/shuffled some key North American positions for BikeExchange, including naming Cameron Simpson to Head of North America effective immediately. Three other senior North American position changes have also been announced.
Kitzuma Co-Founder Taylor Essick, who announced these changes, will remain as CEO in NA for both brands. The other major leadership changes are the promotion of Matthew Smith, a legacy employee from BikeExchange NA who moves to Head of eCommerce Operations in NA; and Garret Becker becomes Head of Sales for both brands North America. Rounding out the list is Kristofer Stewart who will serve as Head of Customer Service.
Simpson's rapid rise through the ranks at BikeExchange/Kitzuma Cycling Logistics is thanks in part to her 15 years across multiple fields in the cycling industry: She started out working for a small frame builder, followed by a stint as a custom wheelbuilder, then sales at a major component brand. That experience landed her at BikeExchange/Kitzuma Cycling Logistics a year ago, and she's been steadily climbing the ladder since.
"It's a huge honor to be offered this position, and I'm so excited to help steer these innovative brands — who make the retail-bike-buying experience so much more consumer friendly and wider reaching– toward continued growth and expansion," says Simpson. "With the proper tools and leadership we are committed to raising the dignity of online sales in our industry as a whole. So brands and retailers can keep focusing on making and selling stellar bikes with exceptional in-store service. We are here to be the experts in eCommerce and direct to consumer bike transportation."
Prior to his time with BikeExchange, Smith worked for Specialized and H2 in retail and marketing positions. He's also an accomplished XC racer. Becker, whose role is responsible for Retail and Brand Partner acquisition for BikeExchange in North America, brings a tech and legal background to the job from his years of related experience in NYC. He also brings some NYC street cred after years racing on the crit scene.
For more information on the brands and/or the latest staffing, or to request interviews for editorial coverage, please contact SIMBOL Communications: Nic Sims (nic@simbolpr.com)
ABOUT BIKEEXCHANGE: BikeExchange Limited (ASX: BEX) is a leading operator of global online cycling focussed marketplaces that enable a dedicated and growing global audience of consumers to connect and transact with thousands of retailers and brands. The Company was founded in Melbourne in 2007, with the aim of bringing together the fragmented global cycling industry to trade and scale. BikeExchange listed on the Australian Stock Exchange (ASX) in February, 2021. Today, it hosts over 1500 brands, 1650+ retailers and 900,000+ products globally, with an annual audience of 28+ million consumers.