BikeExchange Offers Ideal Solution for North American Inventory Normalization
March 1, 2023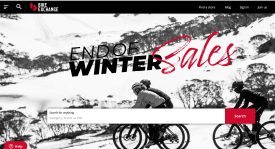 As pandemic-related supply chain issues ease and inventories rise, companies look to BEX for additional channels to market
Asheville, North Carolina (March 1, 2023) /ENDURANCE SPORTSWIRE/ – As the cycling industry struggles with a post-pandemic twist – excess inventory following normalization of supply chain shortages – online marketplace BikeExchange (BEX) is proving an ideal option for retailers and manufacturers alike. Through BikeExchange's unique platform, bike sellers can exponentially increase their potential consumer base, driving online sales and bringing more customers in store.
In business in North America since 2015, BikeExchange's combination of offerings is proving especially successful in the current climate, as brands and retailers wrestle with overflowing inventories and slowing sales. Globally, BEX has recently signed partnerships with key brands like Shimano and Factor Bikes, and major retailers Decathlon and Bicycles Online among many others.
"The supply chain has caught up, and bike brands and retailers previously impacted by long delivery delays are now grappling with the opposite challenge, being oversupplied," says BikeExchange's Head of North America, Cameron Simpson. "This has led to increased price competition and increased demand from sellers looking for additional channels to market. Our platform has proven itself fully capable to support consumers and sellers alike – we make it easier for consumers to find the bike they are looking for, regardless of where that bike may be located, while providing sellers access to a market of millions of active shoppers."
Victory Bicycle Studio, owner Clark Butcher, agrees and recently made the jump. "Knowing I wanted to explore some additional online marketplaces to showcase our products, I recently started doing some research," says Butcher. "I decided to give BikeExchange a shot, and the success of this product is already incredibly tangible (as in bikes leaving my front door!). After just 45 days into sales on BEX, we are stoked with the sales numbers and increased traffic on all our web platforms. Super pumped to see how this marketplace increases in traffic and sales as the 'cycling season' is now coming upon us."
BEX also recently bolstered their offerings in North America, via the wholly owned subsidiary Kitzuma Cycling Logistics. Kitzuma recently announced it's now offering 3PL services, and they've already signed 3PL agreements with UNNO, Blaupunkt, Econic One, and Envo Brand Systems.
The latest retailers, brands, and distributors to sign up or extend their cooperation on the BikeExchange platform include:
North America Brands: LeMond, Lekker, Civilized Cycles, Blaupunkt, Priority Bikes, Cinelli
North America Retailers: Decathlon, Playtri, Gotta Ride Bikes, Victory Bicycle Studio, Marblehead Cycle, eBikes USA, and The Bike Path
For more information on BikeExchange, please contact Garret Becker: garret@bikeexchange.com
For media inquiries, please contact Scott Boulbol, SIMBOL Communications: scott@simbolpr.com
ABOUT BIKEEXCHANGE:
BikeExchange Limited (ASX: BEX) is a leading operator of global online cycling focussed marketplaces that enable a dedicated and growing global audience of consumers to connect and transact with thousands of retailers and brands. The Company was founded in Melbourne in 2007, with the aim of bringing together the fragmented global cycling industry to trade and scale. BikeExchange listed on the Australian Stock Exchange (ASX) in February, 2021. Today, it hosts over 1500 brands, 1650+ retailers and 900,000+ products globally, with an annual audience of 28+ million consumers.