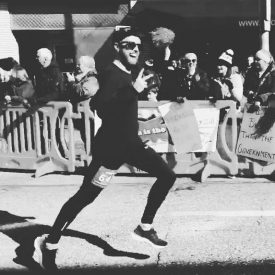 Baltimore, MD. December 12, 2018. Big Run Media, a leader in endurance event marketing and brand strategy, announced today that Robbe Reddinger will join its team in the role of Digital Marketing Manager. As a digital marketing strategy becomes an absolute necessity for events and brands, he will work on a personal level to ensure Big Run clients are experiencing continual growth.
"I love the culture and lifestyle that embodies the endurance industry, and I'm stoked to work with Big Run to build relationships and help others reach their goals," Reddinger said. "There are so many great events with so much untapped potential, and I can't wait to get them in front of more people through digital marketing avenues."
Reddinger has a strong background in writing, graduating from Geneva College with a B.A. in English, as well as a background in front-end web development and WordPress development. He most recently worked with the U.S. Coast Guard as a data analyst, developing internal websites and technical documentation. For the last year, he has written shoe reviews and general running articles for Believe In The Run and Runner's World. In November, he completed his third marathon while working towards a 2019 BQ goal.
"Robbe will be working closely with us on one of our largest initiatives in 2019: leveraging the Believe in the Run brand and audience for our Big Run Media clients," said Thomas Neuberger, Founder of Big Run Media. "This is a transformational merging that will open up a myriad of opportunities and allow us to become a leading media platform for the endurance market. We're really excited."
Reddinger will be working with Big Run from their office in Baltimore, while raising two young boys with his wife Kimi.
About Big Run Media
Big Run Media, LLC is a full-service branding, digital marketing, and creative design agency built by runners that focuses on endurance events and active lifestyle brands. As the world of digital marketing becomes more fast-paced and unforgiving, Big Run's mission is simple: get more athletes to your start line and draw more fans devoted to your brand. Much like an athlete preparing for a goal race, Big Run Media develops your message into peak form by strategically tackling endurance event marketing and advertising challenges. From small-town 5k's to big-city marathons, they work with you every step of the way to ensure your vision becomes a reality.
Learn more: bigrunmedia.com
About Believe in the Run
Believe in the Run has been delivering reviews on running shoes, gear and races for over ten years. Under the Big Run Media umbrella, Believe in the Run is a well-trusted brand and media hub including a website, email list, YouTube Channel, Instagram feed, Twitter feed, Facebook page and Facebook group. Believe in the Run reaches well over 1 million avid runners every year. Its YouTube channel alone has over 1 million views. Visit: believeintherun.com to learn more.