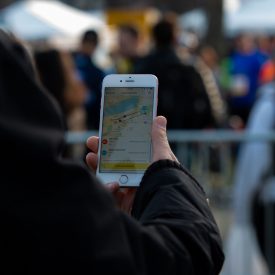 Successful 2018 partnership leads to renewed sponsorship and additional cross-channel promotional campaign
Portland, OR – BibRave, the running industry leader in grassroots digital marketing, recently welcomed MYLAPS Sports Timing as a returning sponsor of The BibRave 100: A Definitive List of the Best Races in America. The 2019 partnership will feature a multi-channel, 12-month partnership featuring digital content, social media promotion, and sponsorship of The BibRave 100 awards luncheon on December 4th at The Running Event in Austin, TX.
The BibRave 100 incorporates inputs from runners, races, running brands, running influencers, and running event service providers to curate a list of the best races in America. Nominations for The BibRave 100 2019 will open in July, with finalists being voted on in September and the final results published in early December.
"We had a really positive experience working with Team BibRave last year, and we definitely saw a lot of value from our sponsorship of The BibRave 100," said Mike Schmitz, Managing Director of the Americas at MYLAPS. "MYLAPS provides the most essential aspects of a successful race – fast, reliable timing and user-friendly event apps – so it only makes sense to partner with BibRave again to support and celebrate the best races in America."
MYLAPS will again power the "Race Director Central" element of The BibRave 100, providing educational materials, case studies, and reporting on event trends across the industry.
Founded in 1982, MYLAPS has set the standard for fast, accurate, and reliable timing throughout the racing and sporting world. The MYLAPS EventApp further enhances the race day experience for runners, including features like LiveTracking, course information, and customizable selfies.
"MYLAPS continues to make a name for itself as providers of fast, accurate timing and powerful event apps," said Tim Murphy, Co-Founder of BibRave. "As a celebration of who's excelling in the world of running events, it's only fitting that The BibRave 100 would partner with an industry leader like MYLAPS."
About MYLAPS Sports Timing:
MYLAPS helps athletes, timers and events to create the ultimate sports experience for participants, followers and sponsors. Every year, MYLAPS captures the performance of over 20 million people all over the world. And turns their data into insights, progress and fun. We offer them a better understanding of their performance and help them with their best next steps. Founded in 1982, we have revolutionized the world of sports timing with groundbreaking innovations and set the standard ever since. Our products and platforms are used at professional events like the Olympics and NASCAR to countless local events around the corner.
More info on www.mylaps.com.
About BibRave:
BibRave works with races and brands to help them engage with runners and ultimately drive more sales and registrations. Through their large and highly-vetted network of running bloggers (BibRave Pros), their popular Twitter event (#BibChat), and their new Podcast (The BibRave Podcast) BibRave helps endurance brands and races go beyond simple advertising and truly connect with more runners.
The company's consumer-facing product is a race review site where runners can learn about a race before signing up, and leave feedback after the event. The company launched in late 2013 in the Midwest and is now based in Portland, Oregon.
About The Running Event:
The Running Event is a conference and retail trade show for running specialty retailers, hosting over 2,500 attendees and about 300 exhibitors at their annual conference. Formula4 Media, based in Great Neck, N.Y., established in 2005, also produces nine publications: Running Insight, Footwear Insight, Sports Insight, Outdoor Insight, Team Insight, Textile Insight, Trend Insight, Inside Insight, and Sportstyle.