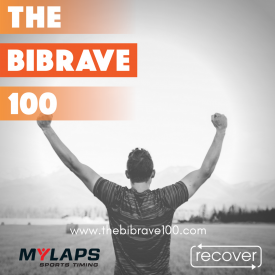 2nd annual list will feature multiple inputs to recognize and elevate the best races in the country
(Portland, OR) – BibRave, the new marketing solution for races and endurance brands, recently announced the 2nd edition of The BibRave 100: A Definitive List of the Best Races in America. The company is also thrilled to announce two new sponsors for the 2018 list – MYLAPS and Recover Brands.  
Building on the success of last year's edition of The BibRave 100, which incorporated inputs from runners, races, running brands, running influencers, and running event service providers, BibRave continues to use its unique position in the running industry to assemble the most authoritative list of the best races in America. As with the previous edition, nominations for The BibRave 100 2018 opened July, with finalists being voted on in September and the final results published in November. 
The 2018 version of The BibRave 100 will include a list of the top 20 Marathons and Half Marathons, the top 15 10Ks and 5Ks, and three other top ten lists based on the most nominated non-distance categories (2018 featured Awesome Medals & Bling, Beautiful On-Course Scenery, and Exceptional Race Management). 
Each race that makes the list will also get help from "Benjamin," The BibRave 100's plush lion mascot, plus a social media and press toolkit to help them use their inclusion to publicize and market their race. 
The 2018 list will be unveiled at The Running Event on November 28, 2018 at a special luncheon featuring not only the top races selected for the list, but also an informative presentation on key findings from the data collected throughout the nomination and voting periods. 
"BibRave is all about helping runners decide their next races by elevating the best events, so creating an easy-to-reference list of the best races in America felt very natural," said Tim Murphy, Co-Founder of BibRave. "2017's list was a huge hit and it's been so fun to see races using their inclusion on The BibRave 100 to market their event and stand out from the competition. We can't wait to see what 2018 edition of The BibRave 100 brings!"
Between now and August 5, anyone can nominate a race for inclusion into The BibRave 100. Afterward, a broad-based survey will go out to a Running Industry Collective consisting of a wide variety of running industry professionals and service providers including race directors, running brands, vendors, and other industry influencers. Finally, a public runner vote will take place from August 20 to September 9, the results of which will be combined with the Running Industry survey scores to decide the final order of The BibRave 100. For more information on dates and how the list will be created, see the FAQ section for more details, as well as The BibRave 100 Nomination Page.
About MYLAPS Sports Timing
The MYLAPS EventApp is the most complete event app in the industry. With features like LiveTracking, course information, and social media integrations, MYLAPS helps timers and events to create the ultimate sports experience for participants, followers, and sponsors. Every year, they capture the performance of over 20 million people all over the world, and turns their data into insights, progress, and fun. MYLAPS offers users a better understanding of their performance and helps them with their best next steps. Founded in 1982, they have revolutionized the world of sports timing with groundbreaking innovations and set the standard ever since. MYLAPS products and platforms are used at professional events like the Olympics and NASCAR to countless local events around the country. More info on www.mylaps.com.
About Recover Brands
Recover's mission is to create the best, most environmentally friendly, and socially responsible products possible, educating and inspiring those around us to live and work for a sustainable tomorrow. Recover uses recycled PET (plastic) and upcycled cotton to make its 100% recycled apparel. Just 8 plastic bottles make 1 shirt. Learn more at recoverbrands.com and join the conversation @RecoverBrands.
About The Running Event
The Running Event is a conference and retail trade show for running specialty retailers, hosting over 2,500 attendees and about 300 exhibitors at their annual conference. Formula4 Media, based in Great Neck, N.Y., established in 2005, also produces nine publications: Running Insight, Footwear Insight, Sports Insight, Outdoor Insight, Team Insight, Textile Insight, Trend Insight, Inside Insight, and Sportstyle. 
About BibRave
BibRave works with races and brands to help them engage with runners and ultimately drive more sales and registrations. Through their large network of running bloggers (BibRave Pros), their popular Twitter event (#BibChat), and their new Podcast (The BibRave Podcast – for Apple or Android) BibRave helps endurance brands and races go beyond simple advertising and truly connect with more runners.
The company's consumer-facing product is a race review site where runners can learn about a race before signing up and leave feedback after the event. The company launched in late 2013 in the Midwest and is now based in Portland, Oregon.