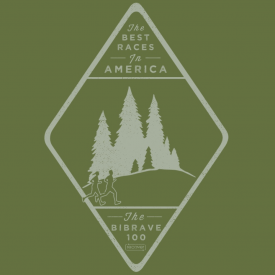 Portland, OR – BibRave, the running industry leader in grassroots digital marketing, is proud to announce The Green Lion Award: Recognizing Innovators in Sustainability, sponsored by Recover Brands, as part of The BibRave 100.
The BibRave 100 is a definitive list of the best races in America, incorporating inputs from runners, races, endurance brands, social influencers, and event service providers. The 2018 version of The BibRave 100 will include a list of the top 20 Marathons and Half Marathons, the top 15 10Ks and 5Ks, and three other top-ten lists based on the most nominated non-distance categories, plus The Green Lion Award. All 2018 winners will be announced at an exclusive awards luncheon at The Running Event on November 28, 2018.
Each race that makes the list will get help from "Benjamin," The BibRave 100's plush lion mascot and inspiration behind The Green Lion Award, plus a social media and press toolkit to help them publicize their inclusion in The BibRave 100. Winners of The Green Lion Award will also receive a custom-made Recover Brands shirt and tote, both printed on 100% recycled material.
"Recover Brands has worked tirelessly to minimize our own environmental impact and to push the national conversation toward greater environmental consciousness," said Bill Johnston, President and Co-Founder of Recover Brands. "We're extremely excited to recognize and support races who are putting in additional effort to reduce their environmental impact."
The Green Lion Award will be awarded to three races from The BibRave 100 that have integrated sustainable practices into their race operations to reduce the carbon footprint of their event. Some examples include: recycling and composting, sourcing recycled swag and local, organic food, reducing waste and donating leftover materials, and providing tap water solutions in place of small plastic water bottles.
"Considering the growth of running events over the past decade, and the increasing number of finishers, races are under increasing pressure and obligation to reduce the environmental impact of their events," said Tim Murphy, Co-Founder of BibRave. "As a leader in sustainability themselves, using recycled PET (plastic) and upcycled cotton to make their 100% recycled apparel, Recover Brands truly walks the walk and, therefore, is the perfect partner to sponsor the first ever Green Lion Award.
About Recover Brands
Recover's mission is to create the best, most environmentally friendly, and socially responsible products possible, educating and inspiring those around us to live and work for a sustainable tomorrow. Recover uses recycled PET (plastic) and upcycled cotton to make its 100% recycled apparel. Just 8 plastic bottles make 1 shirt. Learn more at recoverbrands.com and join the conversation @RecoverBrands.
About BibRave
BibRave works with races and brands to help them engage with runners and ultimately drive more sales and registrations. Through their large and highly-vetted network of running bloggers (BibRave Pros), their popular Twitter event (#BibChat), and their new Podcast (The BibRave Podcast) BibRave helps endurance brands and races go beyond simple advertising and truly connect with more runners.
The company's consumer-facing product is a race review site where runners can learn about a race before signing up, and leave feedback after the event. The company launched in late 2013 in the Midwest and is now based in Portland, Oregon.