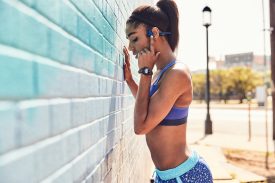 Innovative "Borrow for Tomorrow" program allows customers to try AfterShokz on race day, risk-free
(Portland, OR) – BibRave, the running industry leader in grassroots digital marketing, recently announced that it would host a live episode of The BibRave Podcast with Meb Keflezighi and Peter Sagal during the Chicago Marathon Weekend. In addition to bringing listeners a conversation with two of the most interesting and unique voices in running, BibRave will also be working with longtime partner AfterShokz to launch their innovative "Borrow for Tomorrow" program.
AfterShokz is an award-winning headphone company known for their innovative open-ear, bone conduction technology. As a pioneer in new technology, AfterShokz knows how important it is for prospective customers to experience the product first-hand, and the "Borrow for Tomorrow" program creates that critical "hands-on" experience. 
Borrow for Tomorrow – How it Works
At the live recording of The BibRave Podcast – which takes place on Saturday, October 6, 2018 at 1:30 PM CDT at the Westin River North – attendees will have the opportunity to borrow a pair of AfterShokz Trekz Air to use during the Chicago Marathon, free of charge. 
Customers will only have to provide their name and email address – no credit card information will be taken on site. If they like the headphones and want to buy them, participants can use a unique link that will be emailed to them when they receive their test pair. The borrowed pair of Trekz Air will have to be returned post-race in the self-addressed, pre-paid padded envelope, which will accompany each headphone set. 
"90% of the battle for us is getting AfterShokz products into customers' hands. Once people try us out, they're hooked," said AfterShokz CMO, Kim Fassetta. "The 'Borrow for Tomorrow' program allows people to borrow a pair for race day with no risk or cost, making it easier than ever to try AfterShokz. The live episode of The BibRave Podcast on Chicago Marathon weekend is a great venue for us to pilot this program." 
The live episode of The BibRave Podcast will be hosted at the Westin River North, the day before the 2018 Chicago Marathon, and there is limited seating so people interested in attending should book seats in advance (the show is currently 90% sold out).
"AfterShokz is all about innovation – it's just a huge part of their DNA – so we weren't surprised that they wanted to pilot a unique program like 'Borrow for Tomorrow,'" said Tim Murphy, Co-Founder of BibRave. "We're constantly impressed by their creativity and open-mindedness, and we're thrilled to help them launch this exciting new program."
About AfterShokz
AfterShokz brings patented bone conduction technology, initially developed for military special operations and law enforcement by Voxtech in 2001, to sport, mobile and Bluetooth® headphones designed and priced for everyday use. Through a suite of proprietary audio technologies and the only completely open ear design, AfterShokz headphones deliver premium stereo sound and a promise of safety and comfort that is second to none. Since its inception in 2011, the company has been committed to innovating unconventionally and making situational awareness a priority. Learn more about how to #BeOpen at aftershokz.com.
About BibRave:
BibRave works with races and brands to help them engage with runners and ultimately drive more sales and registrations. Through their large and highly-vetted network of running bloggers (BibRave Pros), their popular Twitter event (#BibChat), and their new Podcast (The BibRave Podcast) BibRave helps endurance brands and races go beyond simple advertising and truly connect with more runners.
The company's consumer-facing product is a race review site where runners can learn about a race before signing up, and leave feedback after the event. The company launched in late 2013 in the Midwest and is now based in Portland, Oregon.