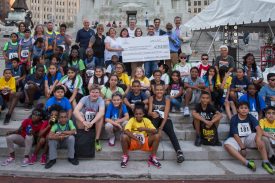 June 5, 2017 – Beyond Monumental has announced that the organization has donated $1 million to local youth education, health and wellness programs since the inception of the Indianapolis Monumental Marathon in 2008. In addition to other 2017 donations, last Thursday at the Monumental Mile, the 501(c)3 non-profit donated $159,000 to organizations supporting local public education, bringing the historical total to more than $1 million.
Beyond Monumental supports local charities and organizations whose missions are consistent their own. These goals include educating Indianapolis youth about the benefits of exercise, proper diet and healthy living, and combating community deterioration and juvenile delinquency by promoting health, physical fitness and wellness in the Indianapolis community.
The largest beneficiary of Beyond Monumental's donations has been the IPS Education Foundation, who, to date has received more than $650,000. Other public education charities who have received donations include Simon Youth Foundation, Teachers' Treasures, The Mind Trust and College Summit.
"The one million dollar mark is a significant milestone for our organization, " said Katherine Coble, president of the board of directors for Beyond Monumental. "Donations are an important part of how we make a difference in the community. Combined with Monumental Kids Movement, our Run For A Cause program, and providing a health and wellness through our events, we are striving to make a difference in central Indiana."
This announcement is the sixth of 10 in a series that Beyond Monumental will release in anticipation of the tenth anniversary of the CNO Financial Indianapolis Monumental Marathon taking place on Saturday, November 4. Announcements will be made on the fourth of each month in the organizational newsletter.
###  
About Beyond Monumental
Beyond Monumental provides the Indianapolis community with a complement of activities built around its premiere event that promotes healthy living & fitness for all ages (both runners and walkers.) Beyond Monumental gives back to the Indianapolis community by supporting youth programming that reinforces healthy lifestyles for young people, with an emphasis on working with urban students and Indianapolis Public Schools, donating more than $875,000 in eight years. The CNO Financial Indianapolis Monumental Marathon is a top 20 marathon in the US and is nationally recognized by Runners' World as one of "Ten Great Marathons for First Timers." The 10th annual running is scheduled for Nov. 4, 2017.
www.beyondmonumental.org