Best Bike Split Works with OpenAI to Create an AI Assistant
November 2, 2023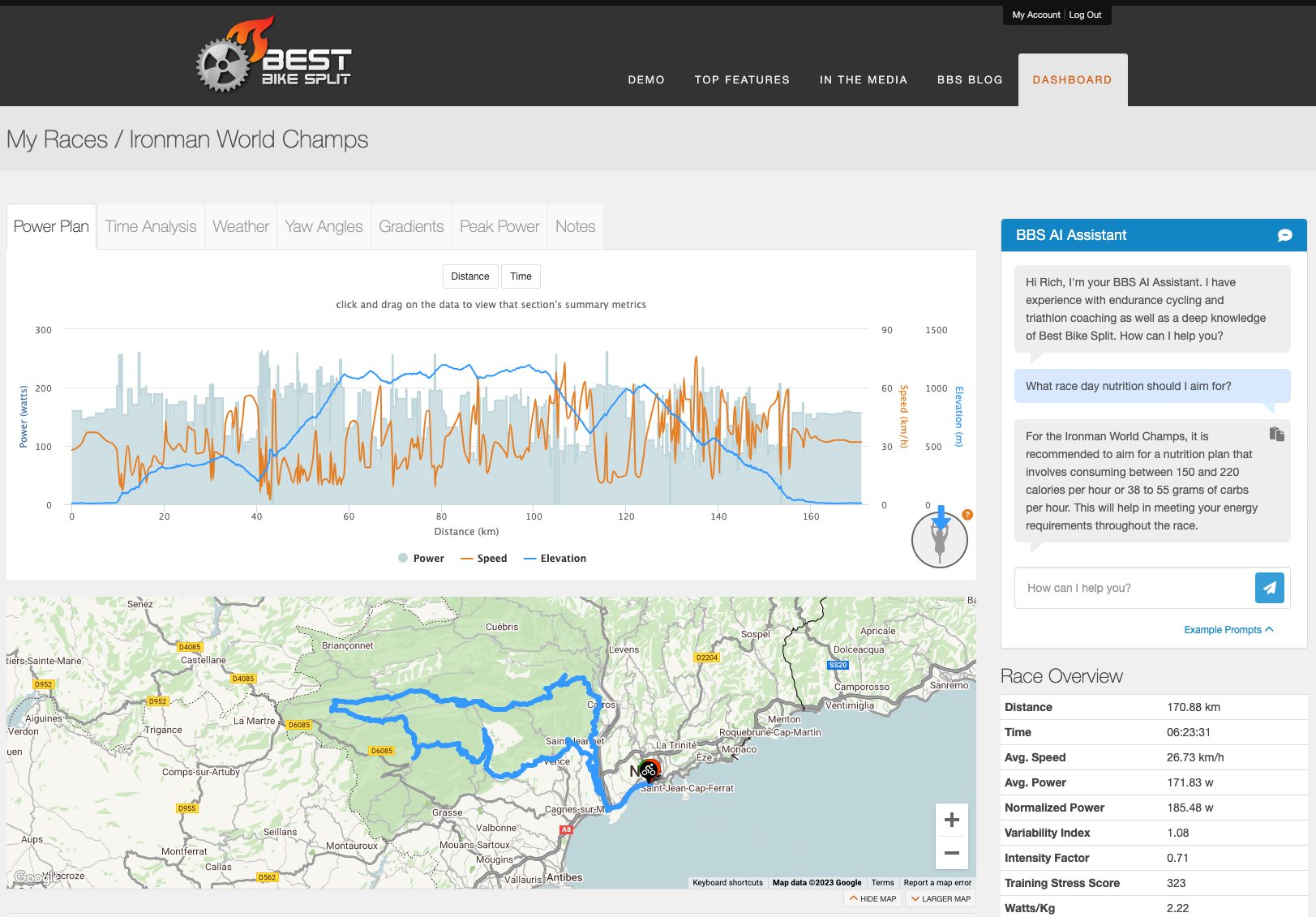 Best Bike Split Introduces Cutting-Edge 'BBS AI Assistant' to Prepare Athletes for Race Day
Austin, TX (November, 2023) /ENDURANCE SPORTSWIRE/ – Best Bike Split (BBS) proudly announces the launch of its latest feature, the BBS AI Assistant, designed to propel athletes and coaches toward unparalleled success on race day. This innovative tool underscores BBS's commitment to harnessing the latest AI advancements, offering users an intelligent, interactive assistant right on their Race Plan Details pages.
"In a landscape where AI milestones are continually being set, we at Best Bike Split are excited to pioneer its integration into endurance sports," said Rich Harpel, Co-founder and President of Best Bike Split. "The BBS AI Assistant is a testament to our dedication to providing sophisticated, tech-driven solutions for our athletes and coaches."
The development of the BBS AI Assistant comes amidst noteworthy progress in AI technology, including the launch of GPT-3.5 and GPT-4.0 by OpenAI and significant enhancements from Google with its Bard model. These advancements signal a new era, and BBS is at the forefront, embracing these changes to refine athletic preparation and strategy.
Understanding the capabilities and limitations of these evolving technologies, the team at BBS has delved into prompt engineering, model fine-tuning, and task-specific model development. The result is the BBS AI Assistant, a specialized tool available exclusively on the Race Plan Details page for Premium Account holders. It provides insights into race plan intricacies, offers nutrition guidance, and suggests tailored workouts and training directions.
"This initial release marks our first foray into interactive, generative AI, serving as a beta phase in our ongoing journey," added Rich Harpel. "We anticipate not only enhancing the BBS AI Assistant's capabilities but also introducing additional AI assistants, each dedicated to specific aspects of Best Bike Split's current and future feature sets."
For an in-depth understanding of the BBS AI Assistant, users are encouraged to visit the FAQ page on the Best Bike Split website. The feature is now accessible to all premium subscribers, reaffirming Best Bike Split's commitment to integrating sophisticated technology for optimal race day performance.
Best Bike Split is an online platform designed for cyclists and triathletes looking to optimize their race day performance. The platform leverages cutting-edge technology to predict winning race times, plan optimal race strategy, and help execute a successful plan come race day. The software is used by Tour de France teams, IRONMAN® world champions, Olympic gold medalists, age-group athletes, and coaches worldwide to plan, train, and race.
For more information, visit Best Bike Split or follow us on Facebook or Twitter.