Beloved Triathlon Twosome Prepares for Parenthood
March 28, 2017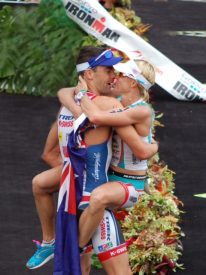 World Champions Mirinda Carfrae and Timothy O'Donnell Expecting first child in August
Boulder, CO — In lieu of announcing her long-awaited 2017 race schedule, 3-time Ironman World Champion Mirinda "Rinny" Carfrae stunned and delighted triathlon fans with the news that she and husband Timothy O'Donnell, also a world champion triathlete, are expecting their first child. Baby O'Donnell is due to arrive August 10, 2017.
"We're over the moon, and we're so excited to finally share the news with everyone," said an elated Carfrae. "Starting a family has been a dream for Tim and I for years. At the Kona finish line last year, I told him I thought it was time. We were fortunate that it happened pretty quickly for us."
While Carfrae will forgo the start line at this year's Ironman World Championship, she's eager to be on the sidelines to support her husband in his quest for Kona's crown. O'Donnell, a top ten Kona regular, previously placed third at the prestigious event (2015) and is firmly focused on ascending the top podium step.
"It's Tim's time to shine," said Carfrae. "It can be tough when both partners race at a professional level and can't give their all to supporting one another. This year I'm doing everything I can to run our household and allow him all the time he needs to train and recover in preparation for Kona. I plan to take on more than my share of diaper duty for the first few months! And I'm sure that having our mini at the finish line in Hawaii will be added motivation for him on race day."
"This is a transition of a very different sort, and it's one we look forward to settling into and enjoying," said O'Donnell. "I'm ready to welcome our new passenger for baby stroller runs!"
Carfrae and O'Donnell are no strangers to that finish line on Ali'i Drive. At the Ironman World Championship in 2009—Carfrae's rookie attempt at the distance—she scored an impressive second place. She's graced the podium at each of her Kona finishes since (seven in total), thrice earning the title of Ironman World Champion (2010, 2013 and 2014). In 2013, her winning time of 8:52:14 set a new course record, and her lightning fast run split was the third fastest overall on the day. Carfrae's 2013 Kona marathon, clocked at 2:50:38, still stands as the women's Ironman World Championship run course record. Carfrae also owns a coveted Challenge Roth victory (2014) and the title of Ironman 70.3 World Champion (2007).
O'Donnell's Kona finishes include 6th with his Kona PR of 8:16:20 in 2016, 3rd and top American in 2015, 5th in 2013 and 8th in 2012. His fastest IRONMAN to date was a 7:55:56 at IRONMAN Brazil in 2015. O'Donnell has a long history of wins in the sport and was the ITU Long Distance World Champion in 2009 and USAT's Non-Drafting Triathlete of the Year in 2009, 2010, and 2015.
Despite the draw of motherhood, Carfrae's competitive fire burns strong, and she plans a return to long-course racing in the future. For now, she'll relish the opportunity to cheer for O'Donnell and to devote more time to her sponsors, all of whom will continue their support throughout her maternity leave.
"I'll definitely be back. I love racing too much to hang it up while I still have that fire in me," said Carfrae. "I'm training a bit now, but without any structure. It was odd at first, but now I'm really enjoying the freedom from a disciplined program. I think the break is a good thing. I know that when it's time to get back at it, I'll be refreshed and ready to go. But for now, my focus is on staying healthy and growing a healthy baby."
About Mirinda Carfrae
Mirinda Carfrae is an Australian professional triathlete and three time IRONMAN® World champion. Carfrae has achieved podium positions in all seven finishes at the Ironman World Championships: three gold (2010, 2013, 2014), three silver (2009, 2011 and 2016), and a bronze (2012) .   Mirinda was also world champion at the 2007 IRONMAN® 70.3 World Championships.      On her debut in 2009, she set a new course record for the marathon of 2:56:51. She again set new course records for the marathon in 2010 (2:53:32), 2011 (2:52:09), 2013 (2:50:38) and 2014 (2:50:26).   For more information, visit mirindacarfrae.com.  Follow Rinny on Facebook, Twitter, and Instagram.
About Timothy O'Donnell
Professional triathlete Timothy O'Donnell has earned 50+ podium finishes including over 20 wins at major events throughout the world. At the IRONMAN World Championship in Kona, Hawaii, Timothy finished 6th in 2016, 3rd in 2015, and 5th in 2013, and 8th in 2012, finishing as top American in 2013 & 2015. O'Donnell was the ITU Long Distance World Champion in 2009, the IRONMAN 70.3 US Pro Champion in 2012, and the IRONMAN US Pro Champion in 2011. In 2003 he won the U.S. Under-23 National Championships and his first of six consecutive Armed Forces Triathlon Championships. O'Donnell was named USAT's Non-Drafting Triathlete of the Year in 2009, 2010, and 2015.
O'Donnell is a graduate of the US Naval Academy (BS, Naval Architecture, 2003) and UC Berkeley (MSEng Ocean Engineering, 2005). He is an active supporter of Team RWB.  For more information, visit timothyodonnell.com and follow him @TOinTri on Facebook, Twitter, and Instagram.
###
Media contacts:
Shannon Delaney – for Mirinda Carfrae
shannon@pchsports.com
John Jones – for Timothy O'Donnell
john@fortyninegroup.com