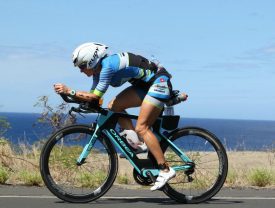 This tough Aussie chooses XRCEL to increase her wins and targets top 5 in Kona for 2018
Charleston, SC – New World Consumer Products announces its continued sponsorship of Professional Triathlete Carrie Lester as an XRCEL Athlete Fuel Brand Ambassador. Carrie joined the XRCEL team right before the 2016 IronMan World Championship race on Kona, and after her coach, Scott Difilippis, introduced XRCEL to her and she tested it with great success at Challenge Roth, Embrunman, and Eagleman earlier in the year. Carrie had an outstanding 2017 season including becoming Ironman France Champion and taking the 2nd place finish at Embrunman, a mere 3 weeks after her IM France win.
"Finding the right nutrition that works for you in both training and race nutrition is one of the biggest mysteries one can solve in endurance racing," says Lester. "There are so many products on the market today claiming to be the best, but so far in my career XRCEL is the only one that I have been able to use and digest with no issues. I never get sick of the taste, and I never have GI distress after ingesting XRCEL. To me those are BIG wins. XRCEL has gotten me through some very tough races, and also helped me achieve 2 x top 10 finishes at the Ironman World Championship, and in my most recent Ironman victory at Ironman France."
"We are excited to sponsor Carrie Lester for the third year in a row", said Laura DeMeo, Business Development Manager – Endurance Sports for Team XRCEL. Since her first "ah-ah" moment using XRCEL to fuel her 2nd place finish at Challenge Roth, Carrie continues to excel as a professional triathlete with an incredible 2017 IRONMAN France victory followed by a 2nd Place finish at Embruman full distance triathlon only 3 weeks later – both races are known to be among the toughest courses in the world. She then went on to place top 7 at the IRONMAN World Championships this past year.  We are pleased that XRCEL has played  a major role in her huge success and are excited for what 2018 brings for Carrie.
###
About XRCEL® Athlete Fuel
XRCEL Athlete Fuel is a revolutionary extended release carbohydrate supplement formulated with patented pH and temperature responsive micro-gel technology developed by New World Pharmaceuticals, LLC.  XRCEL is a caffeine and banned substance free supplement designed to provide athletes with extended release muscle and brain fuel so that they may get the most out of their training and competitions. 
New World Pharmaceuticals is based in Charleston, South Carolina. For more information, please visit http://www.NewWorldPharma.com.
For More Information 
Media Inquiries:
Lisa Sexton
843.737.6192 Ext 104
Lisa@XRCEL.com