Announcing Strong Girl Publishing: Moving Stories For Strong Girls, By Strong Girls
May 31, 2023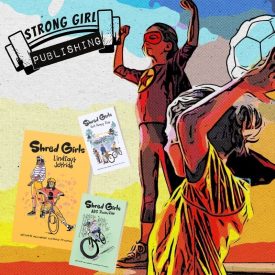 Shred Girls author Molly Hurford is working to bring more athletic content to girls at a time they need it most
/ENDURANCE SPORTSWIRE/ – Strong Girl Publishing is creating books and content to inspire girls in sport, written by young women who've been there. The new micro-publishing company was founded by author and journalist Molly Hurford, who has been writing stories for young women athletes for years—including the popular Shred Girls series. The aim of Strong Girl Publishing is to increase visibility of girls in sport and outdoor adventure, while also providing an outlet for young women athletes to share their stories authentically.
Currently, the Shred Girls series by founder and author Molly Hurford is available through Strong Girl Publishing. In October 2023, Strong Girl Publishing will launch four new titles: a middle grade novel, a YA novel, a volume of poetry titled In Defense of Dreams by cyclist Mackenzie Myatt, and an annual goal-setting workbook from Canadian downhiller Rachel Pageau.
We know that girls drop out of sport for many reasons. Seven in 10 girls who quit sports during puberty said they didn't feel like they belonged in sports, according to one survey of more than 1,000 girls ages 16 to 24. But studies have also shown that girls will embrace more traditionally "boy" activities when presented with images that show other girls engaging in them.
That's where Strong Girl Press comes in: Girls deserve to see themselves in books about sport. They need to see themselves in sport and in outdoor adventure.
Reading is one of the best ways for girls to be able to see themselves in sport and in activities traditionally dominated by boys, but girls are wildly underrepresented in books, especially in the middle grade and young adult age range where the dropout rate in sport is highest.
At Strong Girl Publishing, our mission is two-fold: 
1- Help girls see themselves in sport and outdoor adventure, inspiring them to try new activities by creating engaging stories around girls in sport.
2- Make a space for young women athletes who are looking for a platform to share their voices.
In publishing, there is a space in the market for smart books about girls in different facets of sport—both in terms of books where sport is the primary topic, and books where sport is simply a natural part of the narrative.
Traditional publishers still don't see this space as one that is viable commercially.
We strongly disagree. And we're going to prove it.
Our mission is to create a space for young women athletes who are looking for a platform to share their voices. Young women who have great ideas for books, planners, and other creative endeavors but need help bringing these ideas into existence.
We believe that young women athletes are perfectly positioned to share authentic, real experiences—often through fiction!—in a way that an author who hasn't been there simply cannot.
Strong Girl Publishing will be giving back to organizations focused on bringing girls into sports, by donating five percent of net profits from every book to the organization of the author's choice.
Strong Girl Publishing is also seeking new authors. Pitch information is available on the Strong Girl Publishing website. Additionally, there are co-writing opportunities for athletes with great ideas who would prefer to work with a ghostwriter to best tell their story, and a compilation of stories based on "What I Wish I'd Known" is also open to young women athletes.
Author interviews, excerpts and more will be available soon. Email info@stronggirlpublishing.com to learn more.
More info: https://stronggirlpublishing.com/
ABOUT THE FOUNDER
Molly Hurford is a writer and podcaster in love with all things cycling, running, nutrition and movement-related. In 2017, she created the Shred Girls, a middle grade fiction series and online community focused on getting girls excited about bikes. This has grown into founding Strong Girl Publishing.
She has seen firsthand the power of a book to change a young girl's life: As a former non-athlete who eventually developed a love of cycling and running, she knows how important it is to see yourself in sport. Visibility matters, and her goal is to bring stories of girls crushing it in all sports to the world, so that young girls and young women can see themselves in athletics and getting outside.
Molly has published nine books, runs the Business of Fitness Podcast, which focuses on bringing more women into the athletic industry; cohosts The Consummate Athlete podcast and website with her husband, cycling coach Peter Glassford; and writes for publications including Bicycling magazine. In her spare time, she's still ultra-running and racing on trails, riding bikes, or hiking with her mini-dachshund DW.
WHAT PEOPLE HAVE SAID ABOUT THE BOOKS SO FAR:
"This feel-good sports book all about girl power emphasizes strong friendship, not making assumptions, and putting yourself out there. Lindsay's journey in finding her own style and doing things that scare her will inspire any young reader." –Kristina Pino, Booklist on Shred Girls
"I was stoked, yes, stoked to delve into Shred Girls, hoping it would be something I could recommend to or read to my daughter when she's old enough. Now, I plan to do just that. Still, I wouldn't hesitate to recommend the book to a young boy. Riding is riding. Struggling with learning who you are and making friends are universal." -Matt Pioro, Canadian Cycling Magazine on Shred Girls