Ann Arbor Marathon Offers Corporate Wellness Program to Local Companies
August 25, 2022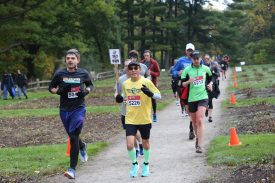 Ann Arbor, MI (August 25, 2022) /ENDURANCE SPORTSWIRE/ – The 11th annual Probility Ann Arbor Marathon will feature a new promotional opportunity for local businesses: Epic Races' Corporate Wellness Program. This health and wellness-focused initiative allows companies to promote their businesses at the Marathon and beyond while encouraging a focus on health, wellness, and camaraderie within their teams. Any interested corporate partners are able to build their own team of employee registrants and volunteers and thereby earn promotional perks depending on the size of their team. On October 2nd, 2022, thousands of participants will be joined by local partners like May Mobility as they run, walk, and volunteer in Ann Arbor's largest marathon event.
Emily Ellis, May Mobility's team captain and Senior Benefits and Wellness Program Manager, shared her team's excitement for October's race: "Inclusive mobility is an essential focus for our team, and we are so passionate about serving our community in Ann Arbor! The Corporate Wellness Program partnership has provided an easy way for us to promote what we love in our community while being active with each other and our families."
The race management company behind the event, Epic Races, also hosts the Ann Arbor Triathlon, the Ann Arbor Goddess Run, and the festive Ann Arbor Sports Commission Firecracker 5K. "With more and more pressures being put on local businesses and their employees since the pandemic, we've been trying to think of more ways to support our local community as well as our participants," explains Eva Solomon, CEO and Race Director of Epic Races. "This Corporate Wellness initiative is the result of our ongoing commitment to the health and fitness of our neighbors, as well as an example of how local companies like us can work together to engage with their communities in a healthy and productive way that ultimately improves the quality of their workplace too."
The Probility Ann Arbor Marathon features a full marathon (26.2 miles individually, or as a 4-person relay), a half-marathon (13.1 miles), a 10K, and a 5K. In partnership with the Rotary Club, Epic Races is also hosting a variety of organizations that help and support mental health and/or issues associated with mental health in an effort to E-Race the Stigma surrounding mental illness. These organizations will be featured at registration and more information can be found there.
All events will start at 8 a.m. on South 5th Avenue between Hill and Madison and finish in the same place. For registration and more information visit www.annarbormarathon.com.
###
About Epic Races
Founded in 2008, Epic Races is Southeastern Michigan's premier organizer of triathlons and endurance events. Epic's mission is to provide professionally managed and safe events that welcome athletes of all ages and abilities, showcase the resources and beauty of Southeastern Michigan, and make each participant feel like a champion. The Ann Arbor-based company hosts more than a dozen multi-sport events and clinics each year. For more information, to register for an upcoming race, or to learn how to register your nonprofit charity to volunteer as a fundraiser at a future event, visit epicraces.com or call (734) 585-7101.
Photos attached courtesy of Greg Sadler Photography.