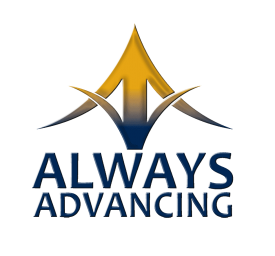 Awards manufacturer signs on to supply medals series wide
February 2017 – SAN DIEGO, CA– The Rock 'n' Roll Marathon Series today announced a new partnership with Always Advancing as the official manufacturer of all finisher and bonus medals. The new partnership will begin at the United Airlines Rock 'n' Roll Washington D.C. Marathon & ½ Marathon on March 11, 2017.  Along with the remaining domestic events, Always Advancing will be supplying medals for seven international events through 2017 as well.
"We are beyond thrilled to be working with Competitor Group and their knowledgeable event managers on their Finisher Medals," said Chris Seiler, President of Always Advancing. "We are now in our ninth year crafting custom medals and shirts for the endurance sports industry. We have earned the opportunity to work with some of the largest and most prestigious events in the industry, and now being able to add the Rock 'n' Roll Marathon Series to our portfolio takes us to an even higher level of professionalism."
With 30 events in the US and international, the Rock 'n' Roll Marathon Series is one of the largest running brands in the world attracting more than 600,000 runners each year. Always Advancing will be responsible for manufacturing and supplying finisher medals for every race and every distance including a long list of exclusive bonus medals each year; remix medals awarded to every runner who completes a weekend challenge of a shorter distance one day and longer distance the next day; limited edition medals earned by completing a certain selection of races; and heavy medals given to runners who complete more than one Rock 'n' Roll event in a calendar year.
"These guys run a world class manufacturing business," said Patrick Byerly, Senior Vice President of Global Events for the Rock 'n' Roll Marathon Series. "I've worked with Always Advancing before at the BMW Dallas Marathon. Their professionalism and experience in international services will make them integral to our growing company providing top notch medals for our participants worldwide."
For more information on Always Advancing, visit AlwaysAdvancing.net or to learn more about the Rock 'n' Roll Marathon Series, check out their website at RunRocknRoll.com
About Always Advancing
Always Advancing, established in 2008, is a world renowned manufacturer of awards, apparel, and promotional products with a specialization in custom finisher medals and ribbons for endurance events. Always Advancing recognizes the hard work and dedication it takes to cross the finish line and we strive to design and manufacture awards which the athlete will appreciate and wear proudly. Aside from athletic events, we also provide for businesses and events of all kinds across the globe! All of our designs are 100% custom made with extreme attention to detail and perfection.
We pride ourselves in creating a uniquely designed product for each event or business. We want each client to be proud of  their accomplishment and receive the best possible product they ask for. Our design, sales, and customer service teams provide our clients with the best quality and service. Our ordering process is seamless for all event directors, business owners, and their staff.
About the Rock 'n' Roll Marathon Series
Organized by Competitor Group, the Rock 'n' Roll Marathon Series is the 'World's Largest Running Series' with more than 600,000 runners taking part in events around the world every year. Started in 1998, the simple idea of making running fun has transformed the U.S. running landscape by infusing the course with live bands, cheer teams and entertaining water stations, creating a block-party atmosphere for participants and spectators alike. Today, the series of marathons and half-marathons has spread to 30 destinations, drawing visitors from around the world. Over the 18-year history of the Rock 'n' Roll Marathon Series, charity partners have raised more than $350 million through the events for a variety of worthy causes. Race weekend kicks off with a free Health & Fitness Expo showcasing the latest in running gear, sports apparel, health and nutritional information and much more. Events culminate with an entertaining finish line festival featuring some of the biggest names in music, with past headliners like Kid Rock, Macklemore & Ryan Lewis, Pitbull, FloRida and Bret Michaels. For more information, please visit RunRocknRoll.com or follow @RunRocknRoll on Twitter.