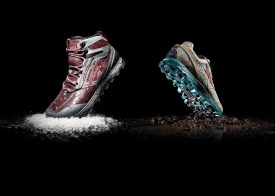 (Logan, UT — September 26, 2018) Altra's new Lone Peak 4 RSM shoes laugh at rain, snow and mud to keep runners, hikers and trekkers on the trail, whatever the weather. The Lone Peak, Altra's most popular trail shoes, are now constructed with eVent®—a revolutionary 100% waterproof fabric technology that offers market-leading breathability, delivering maximum comfort and protection in the widest range of conditions. The eVent® fabric is used on the Altra Lone Peak 4 RSM in both low and mid versions.
The Direct Venting system from eVent® lets heat and sweat escape from the shoe while keeping the elements out. Unlike traditional waterproof systems that need to get wet to move moisture, eVent's technology features billions of microscopic pores that instantly vent the heat and humidity generated during a high-output activity.
"We really collaborated with eVent® and their technicians at our factory to continue to innovate Altra's unique 'waterproof on the outside' technology," said Altra founder Golden Harper. "We placed eVent's waterproof fabric on the exterior on our Lone Peak. That way, water beads on the outside and doesn't soak through to make the shoe heavy when exposed to rain, snow and mud. We also welded, not stitched, the eVent® material to guarantee waterproof-ness."
Along with the new eVent® fabric technology, Altra also completely revamped its Lone Peak shoe family. The TrailClaw™ outsole now has a stickier rubber with more aggressive, carved out, multi-directional lugs for stronger toe-off, quicker mud release and increased traction. The midsole features Altra's new built-in skeletal StoneGuard™ for better flexibility and pinpoint anatomical protection.  The upper has an improved fit and performance using Altra's A-Strap on the midfoot and an integrated tongue for a smoother instep.  Altra's 4-Point GaiterTrap™ with connections on the back, front and both sides gives the snuggest shoe-to-gaiter combination available with Altra's new 4-point gaiters.
The Lone Peak 4 RSM maintains the 25 mm stack height perfect for a wide range of trail conditions, and weighs 10.9 ounces for men and 9 ounces for women. Color options for men are gray/blue and green, while color options for women are gray/light blue and gray/purple.
The mid version of this shoe—known as a runnable hiker or a hikable runner—also has a 25 mm stack height, and weighs 12.9 ounces for men and 10.9 ounces for women. Colors for men are black and gray/red, while colors for women are gray/purple and green/gray.
The Lone Peak 4 RSM will retail for $150 and the Lone Peak 4 Mid RSM will retail for $160. Both are available now on www.AltraRunning.com or at your local specialty running retailer.
About Altra
While working at a running store, Altra founder Golden Harper was frustrated that modern running shoe technology caused poor running form and had not decreased running injuries. His passion to create a shoe that followed the science produced Altra's FootShape™ toe box, Zero Drop™ platform and Fit4Her™ women-specific shoes. Since its founding in 2011, Harper and co-founder Brian Beckstead have grown Altra from one to 30 shoe styles, winning multiple Editor's Choice awards and distribution in more than 60 countries. Join the conversation @AltraRunning and #ZeroLimits on Twitter, Instagram and Facebook.
Media Contact: Colleen Logan, VP Marketing, clogan@iconfitness.com