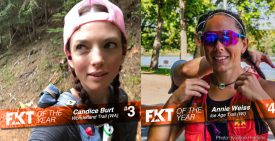 (Logan, UT – February 4, 2019) — Altra Elite Candice Burt and Altra Red Annie Weiss were selected for the top five male and female Fastest Known Time of the Year awards. These awards are provided to those who complete the fastest known time on an official trail.
Candice Burt was awarded third female with her unsupported FKT on the Wonderland Trail in Washington with a time of 1 day, 4 hour, 45 minutes and 31 seconds. The previous FKT on the 98-mile hike that circumnavigates Mount Rainier was set by a team. Burt didn't like that the unsupported FKT was held by a team, so she decided to beat it by herself.
"I'm really stoked because I decided to suck it up and show that the FKT could be broken again solo," Burt said.  "I knew running solo was the challenge I needed to face my fears. My fear of not meeting my goal, my fear of the dark, of running into mountain lions (like I did in 2012). When we face our fears we take away their power and claim it for ourselves."
Burt ran in the Altra Superior 3.5 because they have incredible grip on a variety of surfaces with a comfy, glove-like fit. But her favorite feature is the FootShape™ toe box because she didn't get a single blister while grabbing this FKT.
Annie Weiss was awarded fourth female with her FKT on the Ice Age Trail in Wisconsin with a time of 21 days, 18 hours and 7 minutes for the 1,200 miles. She was supported by her husband Brian during her three weeks of running where she averaged nearly 55 miles a day and beat the men's FKT by 12 hours.
"I've achieved so much in my running," Weiss said. "It was something different than just training, racing, training, racing. This time, I didn't have to worry about the person behind me or the person ahead of me. The mental, emotional, and physical battles were with myself."
Weiss' shoe of choice for the Ice Age Trail was the Altra Olympus 3 because of its max cushioning, sticky Vibram® MegaGrip™ outsole and flexible, responsive ride.
Stay updated on Altra's Elite and Red Team athletes by following the Team Altra Facebook page.
About Altra
While working at a running store, Altra founder Golden Harper was frustrated that modern running shoe technology caused poor running form and had not decreased running injuries. His passion to create a shoe that followed the science produced Altra's FootShape™ toe box, Zero Drop™ platform and Fit4Her™ female-specific shoes. Since its founding in 2011, Harper and co-founder Brian Beckstead have grown Altra from one to 30 shoe styles, winning multiple Editor's Choice awards and distribution in more than 60 countries. Join the conversation @AltraRunning and #ZeroLimits on Twitter, Instagram and Facebook.
Media Contact: Colleen Logan, VP Marketing, clogan@iconfitness.com