Altra Previews Spring 2019 Shoes and Apparel at Outdoor Retailer Summer Market
July 22, 2018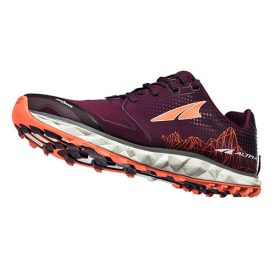 (Logan, UT — July 22, 2018) Altra will showcase its newest shoes and apparel, launching Spring 2019, at Denver's Outdoor Retailer Summer Market on July 23-25. Visit Altra's booth #49129-UL to see its selection of trail shoes, road shoes, women's specific shoes and apparel.
Trail Shoes:
Altra's Superior 4 will be the lightest, fastest and most adaptable Superior yet. At 7.9 ounces for men and 6.6 ounces for women, the Superior 4 is one of the lightest trail shoes on the market. Altra's new Quantic™ midsole is soft and light to adapt to uneven trails for a more stable ride, while being the perfect blend of plush comfort and responsiveness. A new stickier MaxTrac™ rubber outsole improves grip, traction and durability and easily tackles gnarly terrain. A wraparound upper with minimal seams and a new rounded heel cup provide more stability and a sleeker fit. MSRP for the Superior 4 is $110, available January 2019.
The updated Altra Timp 1.5 improves on the original's success as a "long day shoe" with plush cushioning in a 29mm stack.  A new softer, more flexible midsole and an upgraded sticky rubber MaxTrac™ outsole give unparalleled traction. The heel fit was adjusted for more comfort with less slippage. Altra's 4-Point GaiterTrap™ was added for the snuggest fitting gaiters with maximum protection against trail debris, along with an upgraded mesh for more durability and a more secure fit.  MSRP for the Timp 1.5 is $130, available November 2018.
Road Shoes:
New to Altra's road lineup is the Kayenta, a super lightweight performance trainer at just 5.9 ounces for men and 4.9 ounces for women. The new upper is a unique two-layer sock style construction—a soft inner liner with a supportive outer shell—making it adaptable to many foot shapes and volumes. The midsole features Altra's new Max-LT™ lightweight performance foam with a responsive feel, while the outsole has strategic rubber pods to increase the shoe's durability. The Kayenta is an ideal go-fast training shoe and marathon racer that is incredibly light with a 23mm stack height. MSRP for the Kayenta is $110, available February 2019.
The Altra HIIT XT 2 is a fantastic update to Altra's court-capable cross training shoe, improving the fit, function and comfort. New construction allows more flexibility for a better running experience, while the updated lacing system provides more stability for lateral movements and lifting. The upper features a new two-tone design with fresh colors. The removable PowerSole™ drops the stack height from 20mm to 15mm for closer ground contact, ideal for squats and heavy lifting. Altra built the HIIT XT 2 to handle activities that require side- to-side movement and lateral stability, such as high intensity interval training, tennis, pickleball and other gym or court activities.  MSRP for the HIIT XT 2 is $110, available January 2019.
Just for Women:
The Altra Dyani is a women's-only slip-on made for your busy lifestyle; convenient, comfortable and cute. The Altra EGO™ midsole coupled with a sock-like knit upper gives ultimate comfort with a fashionable flair. The Dyani has a 20mm stack height, weighs just 6.7 ounces and has a trendy athleisure look that pairs well with leggings or jeans. MSRP for the Dyani is $100, available February 2019.
Altra's HIIT XT Mid is a women's-only mid top version of its popular HIIT XT gym and court-enabled cross training shoe. This shoe is made to function like a cross trainer, but is also stylish enough for everyday wear. The upper is a soft custom knit design, while the midsole and outsole are supportive and durable to tackle weightlifting, gym workouts and court sports. Altra's Mid version has a the innovative removable PowerSole™ insole that drops the stack from 20mm to 15mm, ideal for squats or heavy lifting. MSRP for the HIIT XT Mid is $120, available February 2019.
Apparel:
A current trend in the trail scene is racing in button up shirts, and Altra is the first brand to offer the perfect solution with its techy Trail Running Button Up in long sleeve and short sleeve. The Trail Running Button Up has a plaid design in a lightweight performance fabric for running or fastpacking. This top has full length breathable panels on the back, a front left zippered pocket for essentials, a secured collar that won't move while you run and a hidden sunglasses wipe on the inside hem. MSRP for the Trail Running Button Up Long Sleeve is $89 and the Short Sleeve is $79, available March 2019.
Altra's new women's Crop Top is a stylish performance piece, great for yoga to ultramarathons and everything in between. This top has an athletic fit with a high neck featuring mesh detail in the front and back for maximum breathability. The Crop Top is supportive enough for A-B cups to wear alone but is also perfect for pairing with a bra if more support is desired. MSRP for the Crop Top is $49, available in March 2019.
The Altra Windbreaker is an essential piece for all runners made from a durable, stretchy, soft ripstop fabric. The jacket comes in unisex sizing and has a front zipper down the middle. Altra's Thumb-Lock™ technology features an elastic loop on the inside of the sleeve that when pulled with your thumb allows the jacket to comfortably tighten around the wrist. This jacket conveniently packs into its own chest pocket, ideal for traveling, throwing in your gym bag or saving space in your running pack. MSRP is $59, available in March 2019. 
Altra's Split Short isn't just your average short—its split length is customizable with two different options depending on your preference. Just undo the side seams until the split height is to your liking. This race-ready piece also has one large pocket with two entries on the back for stashing your keys, gels or other small items on-the-go. The men's inseam is 3 inches, while the women's inseam in 2 inches. MSRP for the Split Short is $39, available March 2019.
Altra's Ripstop Pant is an innovative piece. Designed to be durable and tough, yet breathable and soft, this pant is ideal for hiking, running, backpacking and is made to tackle any outdoor activity. The Ripstop Pant also features back of knee perforations for increased breathability and front and back pockets to carry all your essentials. The men's pant has a front fly snap waist with a traditional cuff leg, while the women's has an elastic drawstring waistband with a jogger style fit. MSRP for the Ripstop Pant is $79, available March 2019.
The women's 3/4 Crop Tight is the perfect solution for warmer spring days. The fashionable high waist cut provides a flattering silhouette, while a key pocket and zippered phone pocket provide functionality. MSRP for the 3/4 Crop Tight is $64, available March 2019.
The Altra Performance Long Sleeve 2.0 is a great update on this perfect transitional season piece. The lightweight top has body mapping technology featuring breathable panels in high sweat zones and UPF sun protection panels on the front and sleeves. MSRP for the Performance Long Sleeve 2.0 is $79, available in March 2019.
About Altra
While working at a running store, Altra founder Golden Harper was frustrated that modern running shoe technology caused poor running form and had not decreased running injuries. His passion to create a shoe that followed the science produced Altra's FootShape™ toe box and cushioned Zero Drop™ platform. Since its founding in 2011, Harper and co-founder Brian Beckstead have grown Altra from one to 30 shoe styles, winning multiple Editor's Choice awards and distribution in more than 60 countries. Join the conversation @AltraRunning and #ZeroLimits on Twitter, Instagram and Facebook.
Media Contact: Colleen Logan, VP Marketing, clogan@iconfitness.com