Altra Footwear Launches New Category of Trail Cushioning With The Timp
July 10, 2017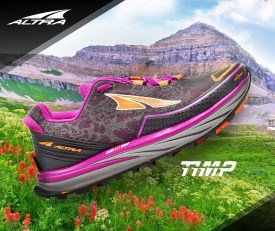 (Logan, UT — July 10, 2017) Altra's newest shoe—the Timp—fills a missing gap in the brand's award-winning trail line. With a stack height of 29mm, this shoe fits the sweet spot for those who want a little less cushion than Altra's Olympus (36mm), but more than the Lone Peak (25mm).
"We call the Timp our 'long day' shoe," said Altra founder Golden Harper. "It's perfect for ultramarathoners like Jeff Browning, an Altra athlete who wore prototypes of this shoe for the Hardrock 100 in 2016 and at Western States in 2017. It's ideal for long hikes or runs to the summit of its namesake mountain or Rim-to-Rim at the Grand Canyon. The Timp has plenty of protection, yet runs light and nimble."
Built on the same performance last as the popular Superior 3.0, the Timp has a similar sleek and comfortable fit, but with 6 mm more protection underfoot.
The Timp features asymmetrical lacing that trail runners love to keep the shoe snug without the strain of tight laces across the foot.
The Timp also features a new MaxTrac™ outsole with a trail rudder for the perfect blend of grip and durability. The InnerFlex™ midsole is cushy enough to absorb elements from uneven terrain, yet stays light and flexible.
The upper has a new reflective pattern to keep runners visible in any lighting and has drainage holes to allow easy release of excess water.
The Timp weighs just 10.7 ounces for the men's sample and comes in red, blue, gray and chive. Women's sample size weighs 8.9 ounces and is offered in orchid, blue and deep lime.
Like all Altra trail shoes, the Timp is named for a beautiful Wasatch mountain peak where the Altra team runs for inspiration. The name Timp is the locals' nickname for Mt. Timpanogos, a massive peak with an iconic trail to the 11,749 foot summit, the second highest peak in Utah's Wasatch Range.
The Timp will retail for $130 and will be available in July on www.AltraRunning.com and at your local specialty running retailer.
Altra's Timp trail shoe, along with its 2018 products, will be highlighted at Salt Lake's Outdoor Retailer Summer Market on July 26-29 at Altra's booth #35169.
About Altra
While working at a running store, Altra Founder Golden Harper was frustrated that modern running shoe technology caused poor running form and had not decreased running injuries. His passion to create a shoe that followed the science produced Altra's FootShapeTM toe box and Zero DropTM  platform. Since its founding in 2011, Harper and co-founder Brian Beckstead have grown Altra from one to 25 shoe styles, winning multiple Editor's Choice awards and distribution in more than 60 countries. Join the conversation @AltraRunning and #ZeroLimits on Twitter, Instagram and Facebook.
Media Contact: Colleen Logan, VP Marketing, clogan@iconfitness.com