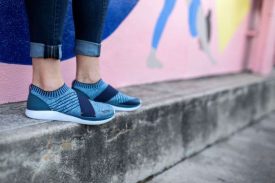 (Logan, UT – March 18, 2019) The Altra Dyani is a women's-only slip-on made for your busy lifestyle; convenient, comfortable and cute. This shoe has a trendy look that pairs well with jeans, leggings or sundresses and is ideal for after the gym, running errands or everyday wear.
The Dyani features a plush and springy EGO™ midsole coupled with a sock-like custom knit upper that gives ultimate comfort with a fashionable flair. The Dyani has a 20 mm stack height and weighs just 6.7 ounces. Three colorways make this shoe versatile: heathery black, light blue/navy or coral. Retail price is $100.
The Dyani is also made with Altra's Fit4Her™ technology, meaning every women's shoe is customized to the unique anatomy of the female foot. Women have a narrower heel and midfoot, a higher instep, a longer arch and unique metatarsal spacing which is accounted for on every Altra female shoe.
The Dyani is available on www.AltraRunning.com and at your local specialty running retailer.
About Altra
While working at a running store, Altra founder Golden Harper was frustrated that modern running shoe technology caused poor running form and had not decreased running injuries. His passion to create a shoe that followed the science produced Altra's FootShape™ toe box, Zero Drop™ platform and Fit4Her™ female-specific shoes. Since its founding in 2011, Harper and co-founder Brian Beckstead have grown Altra from one to 30 shoe styles, winning multiple Editor's Choice awards and distribution in more than 60 countries. Join the conversation
@AltraRunning and #ZeroLimits on Twitter, Instagram and Facebook.
Media Contact: Colleen Logan, VP Marketing, clogan@iconfitness.com